LATEST CAYUGA
NEWS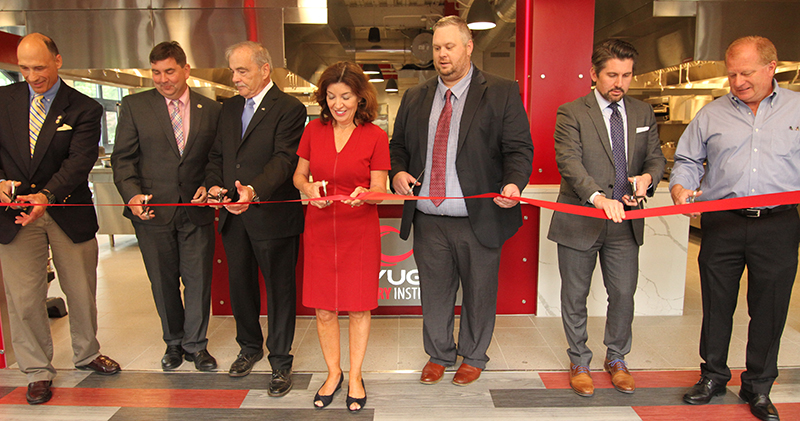 Governor Andrew M. Cuomo announced July 14 the completion of a $1.5 million project to create the new Cayuga Community College Culinary Institute in Auburn.
Funded in part through the city's $10 million Downtown Revitalization Initiative award in 2018, the project included renovating part of the Plaza of the Arts in downtown Auburn into the Cayuga Culinary Institute, which will serve as a dedicated space for the college's new Culinary Arts program this fall.
"A critical component of building New York back better than before is ensuring our communities have vibrant downtown areas that serve both the needs of residents and visitors from abroad," Governor Cuomo said. "The Cayuga Culinary Institute will help prepare the next generation of culinary and hospitality workers for Central New York and beyond, while also drawing new visitors to the heart of downtown Auburn to enjoy all the city has to offer."
"The new Cayuga Culinary Institute is a win-win for Auburn," said Lieutenant Governor Kathy Hochul, chair of the statewide Regional Economic Development Councils. "This project will not only bring further economic investment to Auburn, it will also train our workforce with the skills needed for good jobs in the hospitality industry. This is yet another great example of how our Downtown Revitalization Initiative is making success more accessible across New York State."
The project received $800,000 from the New York State Department of State to renovate 2,250 square feet leased space in the Plaza of the Arts building at 161 Genesee Street in Auburn. Interior renovations included creating instructional and event space, as well as building out and fixing equipment for a commercial-grade kitchen and café.
The Culinary Arts program at Cayuga will feature a combination of classroom instruction and hands-on experiences, with students studying food preparation, cooking methods, safety and sanitation, menu and plate design. The program, which offers an Associate of Applied Science Degree, prepares students for careers as executive chefs, pastry chefs, restaurant owners, catering cook and other possibilities.
The program has already received 30 applications for the Fall 2021 semester and will begin offering non-credit culinary courses for community members in July.
"The Downtown Revitalization Initiative was an essential element in our vision of creating a Culinary Institute to prepare our students for successful careers in the flourishing hospitality industry," said Cayuga Community College President Brian Durant. "Graduates of our Culinary Arts program will be in excellent position to launch personally and professionally fulfilling careers that also support the continued growth of our region's private industries. On behalf of Cayuga Community College, I thank the Governor for his support of the Downtown Revitalization Initiative and for his steadfast belief in our students and their potential."
New York Secretary of State Rossana Rosado said, "This project is the perfect example of how the Downtown Revitalization Initiative is helping communities rebuild and retrain the workforce for the post Covid-19 economy. We are focused on moving forward and the Cayuga Culinary Institute offers all the elements that will spur economic development and attract talent to the region to strengthen the Auburn community for generations to come."
State University of New York Chancellor Jim Malatras said, "SUNY is the backbone of the state's workforce where more than one third of all jobs are filled with SUNY graduates. This partnership brought together by the Downtown Revitalization Initiative and the Cayuga Culinary Institute is a win-win-win for students, for restaurants and the culinary industry, and the economic vitality of the community. SUNY Cayuga Community College students will now have a brand new, state-of-the-art facility, where they will benefit from hands-on learning experiences to become chefs and culinary professionals that will no doubt lead them to countless job opportunities and careers in this growing field. My thanks to President Brian Durant and the many state and local leaders that made this institute possible."
Empire State Development Acting Commissioner and President & CEO-designate Eric Gertler said, "The new Cayuga Culinary Institute reflects the Downtown Revitalization Initiative's investment by building on the dedication of its students who are contributing to Auburn's growth and vibrancy. As result of Governor Cuomo's vision and commitment to revitalizing our downtown areas, these targeted investments will ensure regional economic progress for many years to come."
Auburn Mayor Michael D. Quill said, "The Downtown Revitalization Initiative has allowed the city of Auburn to see significant investment in our downtown and we are proud that the Cayuga Community College Culinary Center is the first project to reach completion. Having this new Culinary Center will be a huge boost to our downtown's west side and most importantly the center brings a first-class training facility to be at the use of our community college students so that they may be trained to be the future leaders of the hospitality industry of the Finger Lakes. We thank the Governor for all of his support of the Downtown Revitalization Initiative."
Named a Round 3 winner in July 2018, Auburn is the second largest city in the Central New York region. Recent public and private investment, local planning efforts, and capital infrastructure projects have catalyzed the city's downtown redevelopment.
OTHER NEWS
« Foundation Increases Scholarship Funding for Cayuga Students
Cayuga, CMI Partner on New Initiative »