MAIN BUILDING
The Main Building houses most student services offices, including Admissions, Financial Aid, Business, Registrar, Health Services, and Centers for Student Engagement and Academic Advisement. The offices of the president, vice presidents, deans, division chairs, and many of the faculty are in the Main Building, as are the Foundation and Alumni Association offices. The Main Building also houses art studios, chemistry labs, the computer-assisted design (CAD) lab, geographic information technology lab, computer lab complex, electronics labs, piano lab and choral suite, a student recreation room, and the Irene A. Bisgrove Community Theatre.
HEALTH-BUSINESS-TECHNICAL (TECH) BUILDING
The Health-Business-Technical (Tech) Building provides classroom space for nursing, business, criminal justice, science, and technical programs. Facilities in the Tech Building include nursing labs, a state of the art television studio, the WDWN-FM (89.1) 3,000-watt stereo broadcast facility, interactive video and distance learning classrooms, and faculty offices.
SPARTAN HALL
Home to the Student Center, college bookstore, and Subway restaurant, Spartan Hall also houses classrooms, offices, and courts for basketball, racquetball, and volleyball, a fitness center with aerobic super circuit, weight training room, and locker rooms. Spartan Hall is in full compliance with Title IX and 504 regulations, providing equal facilities for men and women and special access and facilities for persons with disabilities.
IRENE A. BISGROVE THEATRE
Cayuga's newly renovated 424-seat Bisgrove Theatre features some of the latest technologies in lighting and sound equipment. Students will have instruction and hands-on access to all of this state-of-the-art gear, as well as a Black Box Theatre where students can experiment in an intimate environment as they learn their craft. Two 8-station dressing/make-up rooms and a modest scene shop complete the complex. On campus there is also a full working television studio where students can work in front of and behind the camera.
CHILD CARE CENTER
Located in the lower level of the Library Building, the College's Child Care Center provides day care services to children ranging in age from 6-weeks to 12 years. Sponsored by the Faculty-Student Association, the Center is licensed by New York State and accredited by the National Academy of Early Childhood Programs, a division of the National Association for the Education of Young Children. Although the Center was created to serve the needs of students and College staff, community members may enroll their children on a space-available basis.
JAMES T. WALSH REGIONAL ECONOMIC CENTER
The James T. Walsh Regional Economic Center features classrooms, seminar rooms, and event/reception space. The building is also home to the College's Community Education and Workforce Development Office, offering standard and customized contract training for area employers. Also housed in the Regional Economic Center is on-campus space for employment and training programs and Cayuga Works. The Institute for the Application of Geospatial Technology, (IAGT)headquartered in the Regional Economic Center, processes data from NASA satellites and other sources on a contract basis to support regional planning and development. IAGT also offers several educational programs, including student cooperatives and summer internships, training for K-12 teachers in classroom use of geospatial information technologies, and a summer career camp for middle school students.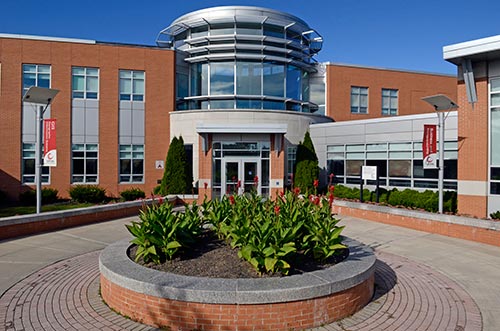 FULTON

CAMPUS

Since 1994, Cayuga Community College has provided a gateway to higher education in the Oswego County region. Students can complete requirements for a host of degrees offered entirely at the Fulton Campus, a state of the art facility at 11 River Glen Drive featuring classrooms, labs, student lounge space and event center, college bookstore and a stunning learning commons at the heart of the campus. This new facility enables Cayuga Community College to meet the needs of Oswego County and the surrounding region for years to come.