The Culinary Arts A.A.S. program prepares students to be confident, competent, kitchen, and career-ready professionals.
Through a combination of classroom and hands-on experiences, students master the fundamentals of food preparation, cooking, presentation, and menu design. In addition to learning the basics of preparing and cooking food, students explore the latest trends in food preparation, presentation, and culinary arts.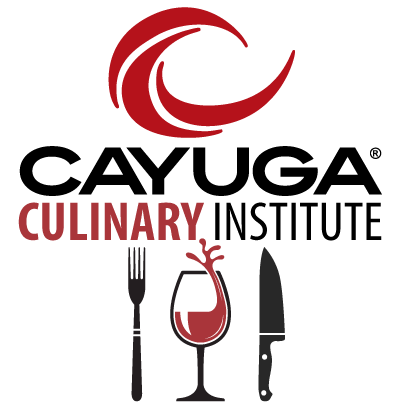 PROGRAM
LEARNING OUTCOMES
Culinary Arts A.A.S. students will:
Learn the basics of food preparation, cooking, and menu design
Curriculum that balances classroom instruction with hands-on experiences
Develop and strengthen your hospitality skills
Become a confident, competent, career-ready culinary professional
Learn in a state-of-the-art facility in downtown Auburn, NY
Learn the latest trends in culinary arts
CAREER

POSSIBILITIES

Executive Chef, Pastry Chef, Chef de Cuisine, Sous Chef, Research and Development Chef, Food Service Manager, Restaurant Owner, Catering Cook, or Culinary Consultant.
LOCATION
Cayuga's new, state-of-the-art facility on 161 Genesee St (Plaza of the Arts building) in the heart of downtown Auburn, NY, is the perfect venue to explore the art of cooking. Individualized cooking suites, digital demonstration kitchen, and advanced kitchen equipment combine to make Cayuga's Culinary Institute a one-of-a-kind opportunity to be regarded as a master chef.
DEGREE
REQUIREMENTS
General Education requirements must be met before the AS degree will be granted. For details on General Education requirements.
Degree requirements for the Culinary Arts A.A.S. program
COURSES
CREDIT HOURS
FIRST SEMESTER
CULA 100
Food Safety and Sanitation
2
CULA 101
Culinary Methods and Techniques I
4
BUS 105
Business Math
3
BIOL 209
Basic Nutrition
3
ENGL 101
Freshman English I
3
15
SECOND SEMESTER
CULA 102
Culinary Methods and Techniques II
4
CULA 120
Intro to Hospitality
3
ENGL 220
Interpersonal Communications
3
Liberal Arts Elective
3
Liberal Arts Elective
3
16
THIRD SEMESTER
CULA 110
Professional Cooking Methods I
4
CULA 130
Food Purchasing
3
WS

*

/BIOL 180
Viticulture and Enology
3
Elective
3
Elective
3
16
FOURTH SEMESTER
CULA 111
Professional Cooking Methods II
4
CULA 275
Internship in Culinary Arts
3
PHIL 140
Ethical Issues – Food Industry
3
Elective
3
Elective
3
16
TOTAL CREDIT HOURS
63
A prior felony conviction may hinder a student's ability to enroll in a course or complete the requirements of certain academic programs and/or meet the criteria for licensure required by certain professions.