Cayuga's Music Program prepares students for a broad range of careers by emphasizing a combination of musical concepts, versatility, and performance. It is designed for students planning to transfer into music programs at four-year colleges and universities.
The program provides students with a comprehensive foundation in music theory, musicianship, and applied music, as well as a solid liberal arts background. Students are encouraged to develop their own proficiency through a balance of technical skills, problem-solving strategies, conceptual development, and experimentation. Students also learn about the practical application of working in the field of music education and performance.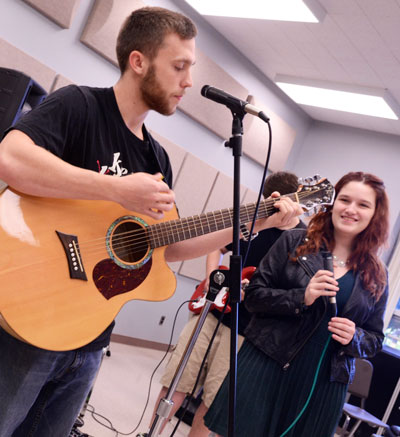 PROGRAM
LEARNING OUTCOMES
Music A.S. students will:
Demonstrate an understanding of music literacy.
Increase their vocal and instrumental proficiency.
Demonstrate proficiency in music theory concepts in practice and performance.
Demonstrate proficiency in musicianship concepts in practice and performance.
Understand the history of Classical, Jazz/Commercial and World Music styles and their role in society.
Develop skills in improvisation and composition.
Demonstrate the ability to perform individually and in ensemble settings.
CAREER

POSSIBILITIES

Career possibilities include music education, jazz/commercial performance, orchestral performance, musical theatre, music therapy, and music business.
TRANSFER

INFORMATION

Cayuga has existing seamless transfer pathways for program graduates with SUNY Oswego and SUNY Potsdam. Students should contact their advisor, the College's Transfer Coordinator and/or the Centers for Student Engagement and Academic Advisement for information on transfer planning. Early consultation to plan the most appropriate course sequence will optimize transferability.
DEGREE
REQUIREMENTS
General Education requirements must be met before the AS degree will be granted.
Requirements for the Music A.S. program
COURSES
CREDIT HOURS
FIRST SEMESTER
ENGL 101
Freshman English I
3
MUSI 145
Music Theory I
2
MUSI 131
Musicianship I
1
MUSI 200
Applied Music
2
MUSI 101
Music Appreciation
3
Required Ensemble

*

1
Physical Education
1
Health
1
SUB-TOTAL
14
SECOND SEMESTER
ENGL 102
Freshman English II
3
General Education Math
3
MUSI 146
Music Theory II
2
MUSI 132
Musicianship II
1
MUSI 200
Applied Music
2
MUSI 154
OR
MUSI 158
Piano I
OR
Guitar
3
Required Ensemble

*

1
Physical Education
1
SUB-TOTAL
16
THIRD SEMESTER
General Education US History and Civic Engagement
OR
General Education World History and Global Awareness
3
General Education Science
3
MUSI 200
Applied Music
2
MUSI 245
Music Theory III
2
MUSI 231
Musicianship III
1
Required Ensemble

*

1
Music Elective
3
SUB-TOTAL
15
FOURTH SEMESTER
MUSI 246
Music Theory IV
2
MUSI 232
Musicianship IV
1
MUSI 200
Applied Music
2
Required Ensemble

*

1
General Education Social Science
3
MUSI 121
World Music
3
Music Elective
3
SUB-TOTAL
15
TOTAL CREDIT HOURS
60
A prior felony conviction may hinder a student's ability to enroll in a course or complete the requirements of certain academic programs and/or meet the criteria for licensure required by certain professions.