WRITING &
LITERATURE
LIBERAL ARTS AND SCIENCE / HUMANITIES AND SOCIAL SCIENCE
"As a single footstep will not make a path on the earth, so a single thought will not make a pathway in the mind. To make a deep physical path, we walk again and again. To make a deep mental path, we must think over and over the kind of thoughts we wish to dominate our lives." — Henry David Thoreau
WRITING CONCENTRATION
Courses Include: Writing Research in the Discipline, Creative Writing, Writing for the Media or Journalism Practicum, Professional Writing Practicum, Technical Writing.
This concentration is designed for Liberal Arts A.A. students who are interested in graduating with an emphasis in written communication for future employment needs or transfer. Students in this concentration experience varied writing classes in order to understand fundamental differences between writing disciplines and/or to help select writing programs upon transfer.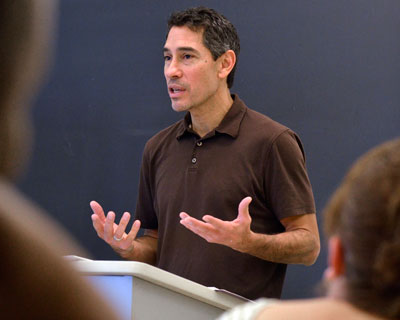 LITERATURE CONCENTRATION
Courses Include: World Literature, American Literature, English Literature,Shakespeare, Children's Literature, Contemporary American Novels, Poetry: Poems and Poets, The Bible as Literature, Women and Writing, Film and Literature, Mythology, African-American Literature, Traditions, Folklore, Science Fiction and Fantasy, Native American Myth, Legend and Literature.
As a member of SOMA you are able to become part of a Literary Learning Community, whose members share a common interest in celebrating literature. SOMA's literature concentration provides individualized advisement, opportunities to attend literary presentations and to socialize with other members of the literature concentration, as well as to meet students who have transferred from Cayuga to pursue their studies in the liberal arts/literature. SOMA provides students with a unique experience and also offers pathways to careers such as teaching, law, publishing, and work for government and not-for-profit agencies. Please join us.