PERFORMING ARTS:
MUSIC CONCENTRATION
LIBERAL ARTS AND SCIENCE / HUMANITIES AND SOCIAL SCIENCE
MUSIC CONCENTRATION
Courses include: Music Appreciation, Music Theory, Rock or Jazz or World Music, Applied Music Lessons, and Ensembles.
Cayuga will help prepare you for transfer to a four-year college or university for a major or minor in music. Along with a solid liberal arts background, the music concentration provides instruction in music history, theory, improvisation and ensemble performance.
The faculty in the music concentration are all professional musicians that perform in pop, rock, jazz, classical, and world music genres. While working with the music faculty students will have the opportunity to develop technical, conceptual and experimental skills to achieve a level proficiency on their instrument and/or voice.
The most exciting aspect of Cayuga's music concentration is that it is a part of SOMA which encourages and enables students to participate in other SOMA programs and concentrations.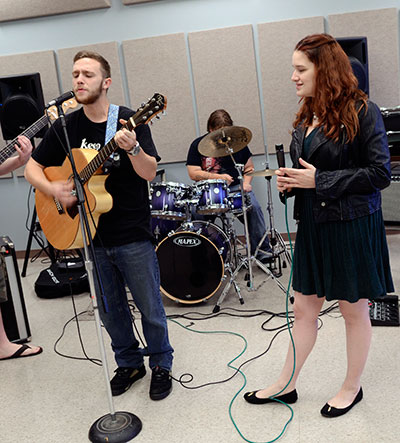 GUEST ARTISTS AND LECTURERS
Cayuga has had many exciting guest artists and lecturers, some of which have included;
Mike Dubaniewicz, Maynard Ferguson Big Bop Nouveau Band
Bob Halligan Jr., American rock singer, musician and songwriter
Samite, Ugandan singer, flautist, and composer
Samba Laranja, Syracuse University Brazilian Percussion Ensemble
Tracy Silverman, electric violinist
George Winston, pianist and composer
FACILITIES AND EQUIPMENT
The music facilities at Cayuga consist of a large rehearsal studio, practice facilities, drum set/percussion lab, and music lab. Students also have the opportunity to utilize the recording studio, television studio, and Irene A. Bisgrove Theatre for recording sessions and performances.
CAYUGA'S MUSIC CONCENTRATION
offer these special advantages:
Balance of required and elective courses for a strong, transferable degree
Private study in vocal and/or instrumental music
Solo and ensemble performance opportunities
Transfer planning through Cayuga's Student Development office
APPLIED MUSIC LESSON AUDITION INFORMATION
Auditions for Applied Music Lessons take place the First Friday of a semester at 11:00 am in M157. Please see the chart below for the audition requirements for Applied Music Lessons. Students are required to bring their college ID, and official schedule for the semester.
ENSEMBLE AUDITION INFORMATION
A student may register for an ensemble, however they must pass a Departmental Audition in order to secure their registration for the course. A Departmental Audition is conducted by the instructor during the first week of classes during the scheduled meeting time.
If after the first week of classes the instructor feels the student does not meet the required proficiency for an ensemble the instructor will notify the student.
Any student enrolled in an ensemble, except Auburn Chamber Orchestra and College Chorus and A Cappella Ensemble, must enroll in Applied Music Lessons.
Course information and audition requirements for the Music concentration
Course Number
Course Name
Audition
Audition Requirements
MUSI 100
College Chorus
No
None
MUSI 114
Guitar Ensemble
Yes
Scales & Arpeggios Music Reading
MUSI 117
Rock Ensemble
Yes
Scales, Modes & Arpeggios
Music Reading Improvisation
MUSI 118
Jazz Combo
Yes
Scales, Modes, Arpeggios Music Reading Improvisation
MUSI 120
World Rhythm Ensemble
Yes
Rhythmic Notation
MUSI 140
A Cappella
Ensemble
Yes
Music Reading
MUSI 200
Applied Music Lessons
Yes
Scales & Arpeggios Music Reading
MUSI 210-004
Auburn Chamber Orchestra
Yes
Scales & Arpeggios Music Reading
MUSI 210-005
Pop Ensemble
Yes
Scales & Arpeggios Music Reading