The demand for specialized, educated criminal justice professionals is growing and the number of students enrolled in criminal justice programs is increasing nationwide. The push for more technological and specialized courses, hands-on competencies as well as math, science, and technical programs is seen at the local, state and federal level with more incentives for students entering advanced, specialized fields, especially in the areas of private security, state and federal positions, financial crime, identity theft, and cyber-security just to name a few.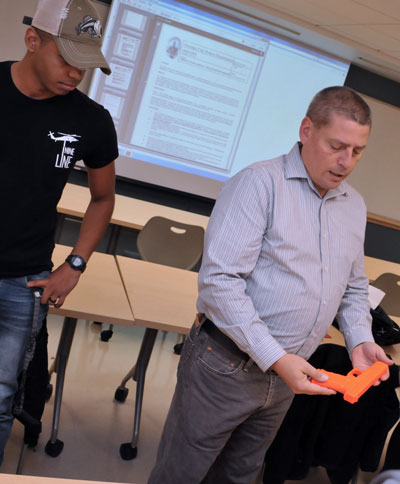 Personal and societal security has become the fastest growing topic in local, state and federal institutions. Students graduating from Cayuga's Criminal Justice Program will find many opportunities for employment and further education as security issues remain in the forefront of society.
Cayuga's Criminal Justice Program collaborates with advisory boards made up of professionals from the relative fields to ensure and provide the most relevant and up-to-date technological and curricula consultation for a successful education experience.
PROGRAM
LEARNING OUTCOMES
Demonstrate an understanding of professionalism as it relates to the criminal justice profession.
Apply critical thinking skills to various aspects of the criminal justice profession.
Communicate professionally and effectively with individuals, criminal justice professionals and teams as it relates to the criminal justice profession.
Promote ethical and professional standards and collaborative learning as it relates to the criminal justice profession.
Interpret and apply cultural diversity and awareness and apply professional techniques as it relates to the criminal justice profession.
AMONG THE BEST

ONLINE PROGRAMS

Cayuga's Criminal Justice Program is part of the State University of New York (SUNY) system and was recognized as one of the best online criminal justice programs for community colleges in the nation according to U.S. News and World Report – Education. U.S. News evaluates several factors to rank programs, including faculty credentials, graduation rates, and reputation.
GENERAL

INFORMATION
All first semester (freshman) students are HIGHLY ENCOURAGED to attend an orientation session either in the Fall or Spring semester depending on their enrollment semester.
Students with criminal histories may not be able to obtain a position in the criminal justice field. Please consult with an Admissions Counselor or the Cayuga Criminal Justice Coordinator before matriculating in a criminal justice degree program.
Body art, piercings, and tattoos may be frowned upon in some criminal justice professions for various reasons such as safety of the officer/agent. If you have questions relative to such, complete some research on your agency of choice or consult with Cayuga's Criminal Justice Coordinator.
Communication, written and verbal, is essential in criminal justice professions. You will be required to effectively demonstrate the various modes of communication, through your required classes, presentations and such before graduation. Cayuga's criminal justice programs' embrace the liberal arts component of education that includes science and English skills.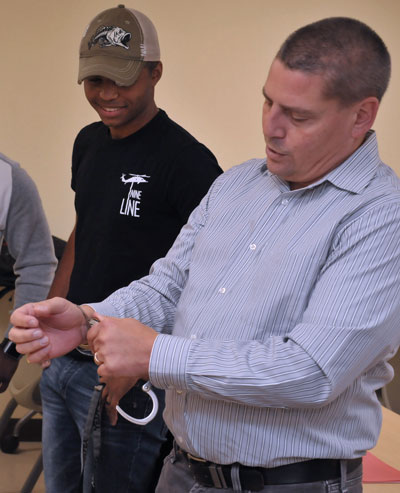 TRANSFER

INFORMATION

Students planning on transferring to a four-year institution to further their education should contact their academic advisor and/or the transfer counselor in the Centers for Student Engagement and Academic Advisement for information well in advance. Early consultation to develop a transfer plan is in the student's best interest in optimum transferability.

The criminal justice department offers several articulation (transfer) agreements with four-year institutions that include:
SUNY Oswego for Public Justice (B.A.)
SUNY Canton for:

Criminal Investigation (B. Tech)
Criminal Justice: Law Enforcement Leadership (B. Tech)
Homeland Security (B. Tech)

Niagara University for Criminology/Criminal Justice (B.S.)
SUNY Empire (B.A.)
ONLINE

LEARNING

Cayuga's Criminal Justice Police and Corrections programs offers a flexible and convenient way to earn you're A.A.S. degree in criminal justice. The student can combine their coursework to include both on campus and/or online instruction or both programs are available 100% online. Learn more about Cayuga's online learning experience by clicking here.
SCHOLARSHIPS
Several scholarships are awarded to various students throughout the academic year. Click on the scholarships below to obtain additional information.
New York State Sheriff's Association
The Historical Society of the New York Courts: David A Garfinkel Essay Scholarship