LATEST CAYUGA
NEWS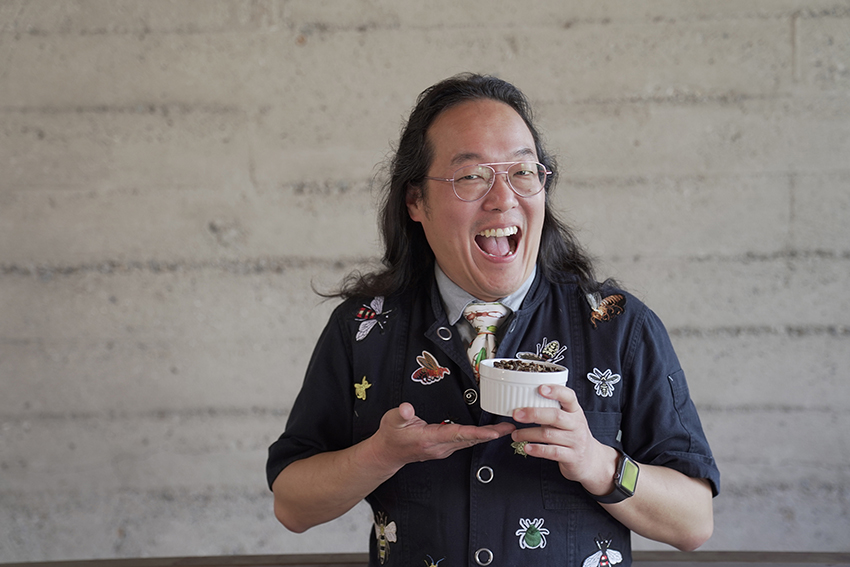 Wells College's Center for Sustainability and the Environment and Cayuga Community College are partnering this spring to highlight a chef renowned for creating delectably sustainable delicacies that feature edible insects.
As part of Wells' Sustainability Series, Chef Joseph Yoon, celebrated as an edible insect ambassador and the founder of industry-leader Brooklyn Bugs, will discuss the sustainability and culinary potential of featuring edible insects in your cuisine. Events on May 1 at Wells and May 2 at Cayuga will include tasting samples for attendees, and will feature students in Cayuga's Culinary Arts program assisting Chef Yoon.
Known internationally for his leadership in entomophagy, Chef Yoon founded Brooklyn Bugs in 2017 to raise awareness about edible insects through culinary and educational avenues. He is a Chef Advocate for the United Nations' International Fund for Agricultural Development (IFAD), the Culinary Advisor to the Methuselah Foundation in support of NASA's Deep Space Food Challenge, and was the Culinary Director for the 2022 Insects to Feed the World Conference.
"The idea of eating insects sparks the curiosity for literally 100 percent of people I speak with, but what I also love to share beyond the food is the tremendous potential of insect agriculture to cultivate innovative ideas to address food security, mitigate climate change, and create resilient solutions beneficial to our health, food systems, and planet. We're honored to collaborate with Wells College and Cayuga Community College to share and brainstorm on creative solutions through the prism of great hope and optimism driven by great purpose, science, kindness, and gastronomy," Yoon said.
On May 1 at 7 p.m. Chef Yoon will lead "Bug Out! Cooking with Insects" at Wells' Sommer Center. The event will highlight Yoon's storytelling of how he became an edible insect ambassador and share the sustainable benefits of entomophagy and insect agriculture, including its economic promise for rural and urban areas, and its potential to improve food security. Chef Yoon will also present "Bug Out" at 12:30 p.m. on May 2 at Cayuga's Auburn Campus. Both events are free and open to the public.
At Cayuga's Culinary Institute in Auburn on May 2, two seatings of "Feeding Your Curiosity" will feature Chef Yoon sharing a 10-course tasting meal prepared with Chef Instructor Patrick Leibacher and students in Cayuga's Culinary Arts Program. Seatings are scheduled for 5:30-7 p.m. and 7:30-9 p.m. Registration is required and can be completed by calling Cayuga's Office of Community Education and Workforce Development at 315-294-8841.
"Chef Yoon's pioneering approach to sustainability and food security is as unique and timely as it is important. His thought-provoking culinary presentation is an opportunity to learn about the role we can each play in solving these problems in today's society," said Marian Brown, Director of the Wells Center for Sustainability and the Environment. "Wells is delighted to partner with Cayuga to highlight this important emerging sustainability topic of diversifying our food sources."
"Cayuga is excited to partner with Wells College to feature renowned Chef Joseph Yoon at our Auburn Campus and our state-of-the-art Culinary Institute this spring. His innovative culinary approach and long-standing commitment to sustainability promise to offer attendees delicious plates while also providing food for thought as they explore their role in supporting our environment," said Dr. Keiko Kimura, Cayuga's Vice President for Workforce Development and Partnerships.
Since 2017 Brooklyn Bugs has dedicated itself in the United States and internationally to building an appreciation for edible insects and the environmental potential of entomophagy. The organization works with colleges, universities, and other institutions committed to education and sustainability to build awareness of how entomophagy can enhance food security, support agriculture and offer inventive culinary options.
For its culinary expertise and leadership in sustainability and food security, Brooklyn Bugs has been featured in major media outlets including the BBC, CNN's "Going Green," NPR, The New York Times and The Washington Post.
The Wells Center for Sustainability & the Environment provides diverse sustainability-themed educational programming for Wells College and the surrounding region. "Bug Out!" was made possible with the generous underwriting support of Deb Callahan, a member of Wells' Class of 1985.
For details about Brooklyn Bugs, visit https://www.brooklynbugs.com. Information about Wells' Center for Sustainability and the Environment, visit https://www.wells.edu/academics/center-sustainability-environment/. Details about Cayuga and its Culinary Arts program can be found at https://www.cayuga-cc.edu/academics/schools/soma/degrees/culinary-arts/.
OTHER NEWS
« Falcon Park to Host 2024, 2025 NJCAA Division III World Series
Cayuga Student Receives SUNY Chancellor's Award of Excellence »