LATEST CAYUGA
NEWS
Cayuga Community College's new Director of Athletics arrives with more than a decade of experience in athletics, including leadership roles in administration, marketing and coaching.
D.J. Bevivino was named Cayuga's Director of Athletics earlier this semester after serving in key roles in athletics departments at Nassau Community College and the SUNY Fashion Institute of Technology (FIT). He also served as the National Chair for Equity, Diversity and Inclusion with National Junior College Athletic Association E-Sports.
Bevivino said he's ready to continue Cayuga's athletic tradition and explore adding new opportunities for students at the Auburn and Fulton campuses.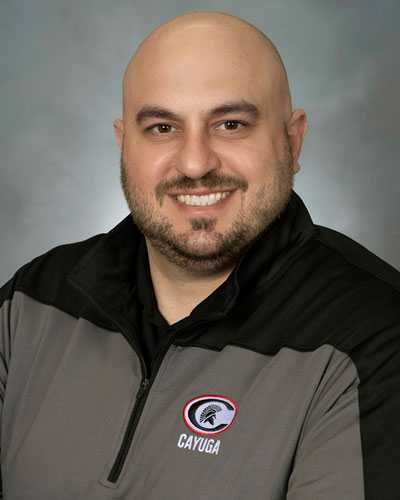 "Cayuga Community College has a history of competitive athletic teams, but also of providing student-athletes with excellent degree programs to prepare them for their future careers. I'm excited to join Cayuga, and look forward to expanding our presence on both campuses and continuing programs that the College, our students and the community can be proud of," he said.
Cayuga President Dr. Brian Durant said Bevivino's experience and versatility make him a great addition to the College community and an ideal leader for the Athletics Department.
"D.J. comes to Cayuga with innovative ideas about advancing our current athletic programs and identifying new opportunities that will appeal to our students and the community," said Dr. Durant. "With his experience as an administrator and a coach, I'm confident he will engage with our students and coaches to continue and grow our successful athletic programs."
Bevivino arrives at the College after more than a decade in diverse roles in administrative, coaching, marketing and sports information. He earned his Master of Science Degree in Education from SUNY Cortland in 2014, and his Bachelor of Science Degree in Education, also from SUNY Cortland, in 2009.
Most recently, Bevivino served as the Assistant Athletic Director and Sports Information Director at Nassau for five years. In those roles he oversaw student-athlete eligibility, researching and implementing new digital strategies, athletics branding and marketing, and other responsibilities.
He also led athletics livestreaming and broadcasting efforts at Nassau and FIT, and has already started implementing a livestreaming system at Cayuga that will launch in the spring.
"We're going to advance our digital presence, adding livestreaming and expanding our reach online. This will open doors to the global community and allow us to support our international student-athletes whose families will be able to watch their child compete, even if they can't attend the game," he said.
His background also includes extensive coaching experience. He was the E-Sports Coach at Nassau since 2020, and was the Women's Soccer Coach at FIT from 2011 to 2017. At FIT he was also the Assistant Coach for Track and Field from 2013 to 2017, while also serving as the Sports Information Director during that time. He was also the President and Coach of the New Hartford Dark Knights Soccer Club for more than a decade.
OTHER NEWS
« Cayuga's Harlequin Productions Honored For Spring Performances
Auburn Community Hospital Sponsoring 'Angel Fund' to Support Cayuga Nursing Students »