LATEST CAYUGA
NEWS

The two students and business partners who were named the top entrepreneurs in Cayuga Community College's first Young Entrepreneurs Academy (YEA!) are ready to compete this weekend in a national scholarship competition.
Alexander Church and Johntae Smith co-founded EZ-Carries in the YEA! program at Cayuga, and are now ready to pitch their business at the 12th annual Saunders Scholars National Conference & Competition on Saturday, October 17. Students competing in the national contest can receive scholarships and start-up prize packages for their businesses.
Church, 14, who attends Union Springs Central School District, and Smith, 12, who attends Auburn Enlarged City School District, developed the plan for EZ-Carries during the eight-month YEA! program. Earlier this year their business, which creates and provides products for people with temporary or permanent mobility difficulties, was named the top enterprise in Cayuga's class by a panel of local investors.
Church and Smith have dedicated the past months to growing their business and developing their first product, the EZ-Carrier, which is a water bottle holder that attaches to crutches, canes, wheelchairs and walkers. They've also been preparing for the Saunders Competition.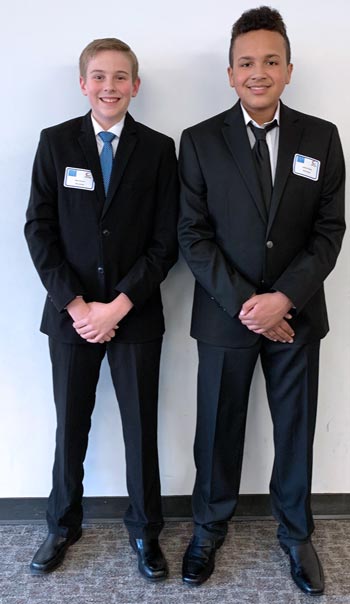 "We've been practicing our presentation, making promotional videos for the website, and taking orders for and selling the EZ-Carrier," said Smith. "We've run through our presentation, and we're excited for Saturday's competition."
"We've dedicated ourselves to our business, whether it's working on filing our patent or developing and selling more EZ-Carriers," said Church. "The whole time, though, this competition has been on our mind, and we've spent the past few months preparing. We feel strong about it, but there's definitely some nerves as well that come with it."
Church and Smith are scheduled to present during the Saunders Competition at 4:30 p.m. on Saturday, October 17. Their presentation can be viewed live on the Young Entrepreneurs Academy's YouTube page, and a link to view the event can also be found at https://yeausa.org/about/saunders-scholars-2020/. Anyone who wants to vote for the People's Choice Award can register for free at https://www.eventbrite.com/e/yea-12th-annual-saunders-scholars-competition-tickets-121950283581.
Founded in 2004, YEA! helps middle and high school students grow their entrepreneurial skills by working with instructors and local business leaders. Students design their business proposal, conduct market research, write business plans and pitch to investors. Lyons National Bank, through LOCATE Finger Lakes, provided full $1,000 tuition scholarships for all the students enrolled in YEA! at Cayuga.
To learn more about EZ-Carries, visit their website at www.ez-carries.com. To learn more about YEA!, visit https://yeausa.org. For students interested in next year's YEA! at Cayuga, email Media and Public Relations Associate Andrew Poole at apoole4@cayuga-cc.edu.
OTHER NEWS
« Five Cayuga Faculty and Staff Receive 2020 SUNY Chancellor's Award for Excellence
Cayuga Child Care Center Expanding Available Programs »