Nursing Applications for Fall 2021 NOW CLOSED. The Application deadline for the Fall 2022 Nursing Program is January 15, 2022
Applicants are encouraged to first enroll in the Liberal Arts and Sciences/Humanities and Social Science program, which provides the opportunity to complete program requirements and select required courses for the nursing degree. This plan allows for three years to complete the Nursing program.
NURSING
INFORMATION SESSIONS
Applicants are strongly encouraged to attend a nursing information session.
During an information session, you will have the opportunity to meet with faculty, students, and Admissions representatives.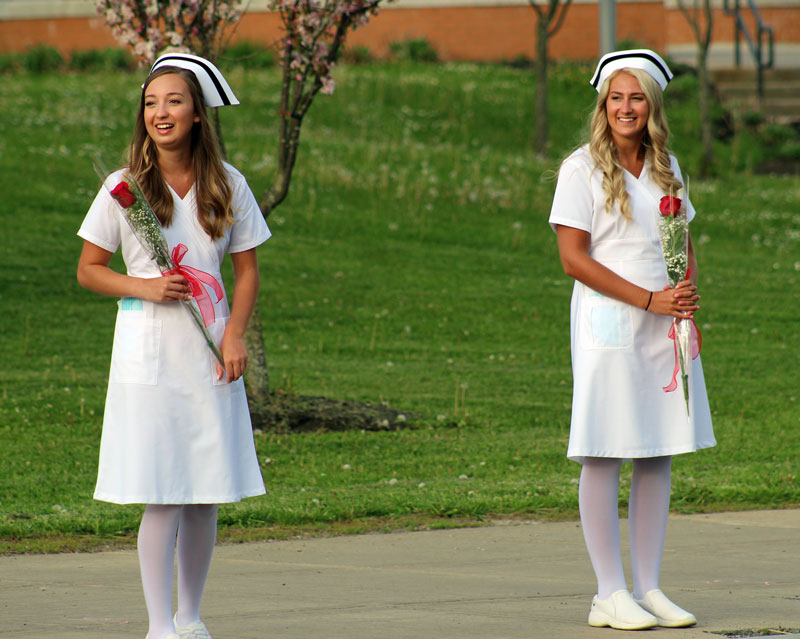 Nursing Information Sessions schedule for Fall 2020
UPCOMING VIRTUAL INFORMATION SESSIONS
Day
Date
Time
Room
Tuesday
May 18, 2021

4:30 – 5:00 PM (Virtual Open House)
Virtual Open House
NURSING PROGRAM APPLICATION

AND REQUIREMENTS
The Nursing program has its own specific application form and process. The online application will be available in October 1, 2021, and has a deadline of January 15, 2022. In addition, the following program requirements must be completed and proof submitted by the postmarked application deadline to be considered.
Admission to the nursing program is a selective and competitive process.
The following prerequisites must be completed before applying to the Nursing program:
High school or general equivalency diploma (GED/TASC)
College transcripts (official) if applicable
Algebra math proficiency:

Testing or placing into Cayuga's MATH 102 (Intermediate Algebra) or higher or
Completion of Cayuga's MATH 099 (Elementary Algebra) or higher with a minimum grade of C (or 70%) or
Completion of pre-calculus or higher in high school with a minimum grade of C (or 70%)

Satisfactory completion (C or 70%) of high school or college biology
Satisfactory completion (C or 70%) of high school chemistry (Regents or General) or college Chemistry 101 (CHEM 103 or equivalent)
Minimum cumulative GPA or overall high school average of 75% or 2.5
Pre-admission Nursing Entrance Exam (for information and dates of tests. For more information, visit Admission to the Nursing Program. A cumulative test score of proficient is required.
At the discretion of the Director of Nursing, applicants with a bachelor's degree or higher may be waived from taking the entrance exam.
English language proficiency as demonstrated by compliance with a minimum required TOEFL score, required if English is not the first language. International students, click here for more information.
May be required to consent to drug testing upon request by the College or affiliating clinical agency
Background check required for clinical
ADMISSION

TO THE NURSING PROGRAM
Applicants are strongly encouraged to attend a Nursing Information Session.
Technical standards are abilities and behaviors that a nursing student must be able to perform to function in a safe manner. It is essential that students of nursing possess and maintain the following functional requirements, with or without reasonable accommodations.
Admission to the Nursing Program is a two-application process.
Applicants must fill out the Admissions Application and a Nursing Admission Application. Completion of these two applications does not guarantee admission to the program.
Download the Professional Reference Form to be used for your professional references submission.
Send all official transcripts to the Auburn Admissions Office.
Applicants will be notified of the acceptance decision in March for fall admission.
Applicants not accepted may be placed on a waitlist; high school students (only) may receive a deferral option.
Applicants not accepted must reapply to be considered for admission the following year.
NURSING
ENTRANCE EXAM
The Nursing Entrance Exam must be completed before January 15, 2022, for Fall 2022 admission. The exam is valid for one year from the test date.
To be eligible for acceptance into Cayuga's nursing program, you must attain an overall score of "proficient" (65% or higher) on the Test of Essential Academic Skills (TEAS). In-person TEAS testing will not take place on campus for the foreseeable future. In the meantime, you can take the test at a PSI testing center or remotely from your own home by following the instructions described below.
HOW TO REGISTER

FOR TEAS NURSING ENTRANCE EXAM
Go to https://www.atitesting.com. A popup will ask you why you are on the site. Select "I am preparing for or taking the TEAS."
You will be redirected to a new page. Select "Create an Account" in the upper right. To have your results sent to Cayuga directly, select Cayuga CC ADN for your institution when creating your account.
Once you have created and signed into your account, select the Online Store option in the upper right.
You will be redirected to a new page. On the left side, there is a menu. Under "Register for..." Select the second option: "TEAS at ATI."
Select the program type "ATI Remote Proctor - Nursing"
There are normally several pages of dates.
Click "Learn More" to see the details for the remote testing site and the technical requirements required to take the test from home.
Click "Register" to register for a specific date and time.
The non-refundable fee for the TEAS is paid to ATI, by credit or debit at the time of registration.
TIPS FOR TAKING THE TEST REMOTELY:


PROCTORIO REMOTE PROCTORING

What should I do to prepare for remote proctoring through ATI?
Prior to remote proctoring, students should:

On the date of the test, students should:
Have the attached docs in front of them for support until they start the test.
Open Chrome and clear cache and cookies.
Students should log into their ATI account.
Click on "Add Product" and type in the ID and PW.
Start assessment.
If you have already downloaded the Proctorio extension, you will be prompted into the system checks.
If you have not already downloaded the Proctorio extension, you will be prompted to do so.
If students run into any issues prior to test date, they should call ATI IT and resolve the issues:

1 (800) 667-7531

.
Two biggest "challenges" for students:
RAM: At the bottom of the page, you may encounter a warning regarding RAM. We recommend closing all other systems or windows. You should be able to move forward to the exam pre-checks regardless of this error.
Proctorio extension not connecting: Clear your cache and try again.
Can students use scratch paper during my test?
Yes.
Can students take breaks?
Yes. You can click the "Pause" button during your test. See image below.