OPEN HOUSE

& FINANCIAL AID DAYS
OFFERED ON-CAMPUS AND ONLINE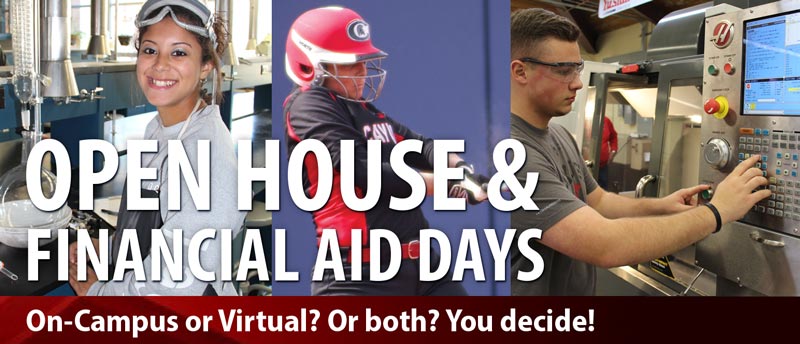 Are you ready to learn

about opportunities at Cayuga?
Sign up for one or both of our Open House options! This fall we have on-campus and virtual Open House opportunities for students and their families.
Already registered for Open House? Click here to update your current registration information.
These events are suitable for students in all phases of the Cayuga admissions process. On-Campus Open House opportunities will differ from Virtual Open House opportunities.
Questions?
Contact Admissions at admissions@cayuga-cc.edu.
WHAT TO HAVE
READY
If you are planning on attending the Financial Services portion of the On-campus Open House and want help filling out your FAFSA application, please have copies of:
Both student and parent Social Security numbers
Birth dates
FSA ID Username and Passwords (if established) and parent and student email addresses
If you are looking to start in Fall 2022, please have student and parent 2020 income and asset information (federal taxes, etc.) readily available