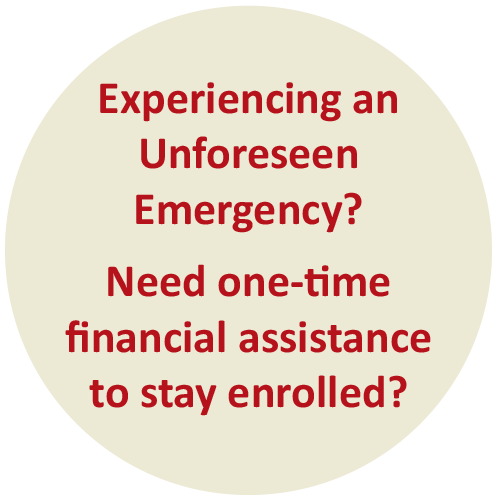 The Student Emergency Fund provides grants for Cayuga students to pay for urgent expenses triggered by unforeseen events that threaten their ability to stay in college.
If you are enrolled in an associate degree-seeking program, attempting at least 6 credits this semester, have a cumulative GPA of at least 2.0, are in good academic standing, AND any of the following is true, apply for help:
Are you homeless or being evicted from your place of residence?
Have you been affected by a natural disaster?
Are you a victim of domestic violence?
Are you a victim of theft?
Have your child care arrangements suddenly changed for the worse?
Have you recently and unexpectedly lost your job?
Do you have an urgent need for something that will help you stay in school but cannot afford it?
APPLY HERE:
These emergency funds are made possible through the generosity of the Heckscher Foundation for Children and the Gerstner Family Foundation.

ELIGIBLE

STUDENTS
Enrolled at Cayuga Community College pursuing associate degree
Full-time or half-time (currently taking at least half the number of credits to be full-time)
Minimum 2.0 GPA and otherwise in good standing with the college
EMERGENCY

EXAMPLES
homelessness or threat of eviction
medical or dental emergency
natural disaster
domestic violence
theft
loss of employment
ELIGIBLE

EXPENSES

Eligible Expense Examples:
rent
utilities
food
clothing
furniture
medical or dental expenses
child care
transportation
replacement of stolen item needed for school
NOT Eligible Expense Examples:
tuition
college fees
books
credit card debt
cable bills
legal representation
HOW TO
APPLY
ATTENTION: All funds have been expended for the FALL 2018 semester.
Access the online application. If you have questions or need assistance with completing the application:go to Lisa Dinneen in Student Affairs, call 315-294-8669, or email ldinneen@cayuga-cc.edu. Also, any faculty or staff member on campus can direct you to the right place for support.
ADDITIONAL

INFO

Additional Notes:
Situations and expenses listed are examples only; additional ones may qualify, and those listed may not be depending on the specific circumstances.
Maximum grant size is $2,000.
Must show evidence of expense (ex: bill); payment will be made to a third party (ex: landlord).
Funds will be available within 72 hours (excluding weekends and holidays) of a complete application being received (including evidence of expense).
Each student is eligible for no more than one grant in an academic year.
Grants are only available during fall and spring semesters.