LATEST CAYUGA
NEWS
A Cayuga Community College student set a College record this summer when she finished in the top three of a national Phi Beta Lambda business competition, the best finish for a Cayuga student in the history of the competition.
Cayuga Phi Beta Lambda (PBL) member Bethany Jorolemon finished third in a Justice Administration competition at the National Phi Beta Lambda Conference in Baltimore, where she and six other Cayuga students competed against 2,000 fellow collegians.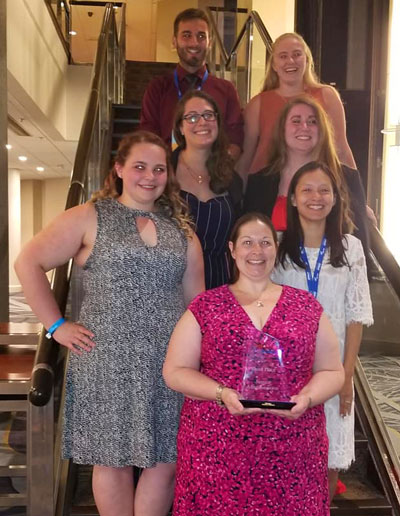 Jorolemon, who has already graduated from Cayuga with a degree in Criminal Justice and is now studying for a degree in Business Administration, qualified for the national competition after finishing in first place in the New York State PBL contest.
Associate Professor Amy Valente, co-advisor of the Cayuga PBL chapter, said she was proud of Jorolemon's work in the College chapter and in the state and national competitions.
"Not only has she served as an officer and mentor to other students, but she has also volunteered to coordinate many of our events and fundraisers," said Valente. "At the national conference, she finished third and is the first student from Cayuga to ever win a monetary award along with her Top 10 placement. Our entire chapter is honored to have Bethany represent us."
Jorolemon, who wants to become a forensic accountant, said Valente initially suggested she join PBL. The organization offers students a chance to develop their communication and business leadership skills, and emphasizes community service, academic competitions and educational programs to prepare students for the business world.
Jorolemon's work experience, time with PBL and efforts in the classroom pushed her to first-place finishes in the New York State PBL competitions for Forensic Accounting and Justice Administration and gave her the chance to compete at the national level.
At the national competition, Jorolemon thought her degree in Criminal Justice would give her an edge, but said the experience was nerve-wracking. Students had only an hour to finish the exam, and the room held students taking 10 different tests that started at different times, with students sitting down and leaving throughout Jorolemon's exam.
At the end, Jorolemon thought she did fine on the test but wasn't sure she finished among the best scores. But as PBL officials called the top 10 finishers on stage prior to announcing the finishing order, Jorolemon heard her name called.
"I was surprised to be called. When I went into the test it was a huge room with a bunch of computers, and 10 tests were going on. I didn't know how many students were taking my test," she said. "So when I was called, I was shocked. They started with 10th place, and the longer I was up there, I realized I must have done pretty well."
Jorolemon said finishing third in the national competition was an honor, and added that the conference also provided great opportunities for networking and ideas for boosting PBL membership and fundraising.
The skills students develop at the conference and in PBL go beyond the business world, which makes them even more valuable, she added.
"PBL is not just for business majors. Anyone can be in it," said Jorolemon. "It's a great learning experience, where you learn how to talk to people and build the skills you use in the future, regardless of your career."
OTHER NEWS
Young Entrepreneurs Academy at Cayuga Community College Now Accepting Applications
Series to Highlight Cayuga County's Rich History, Local Breweries and Wineries