LATEST CAYUGA
NEWS

Emily Klock (Jordan-Elbridge, NY) and Mauricio Kosegarten (Puebla, Mexico) have been named Spartan Athletes-of-the-Week for the week of September 25, 2017.
Klock, a freshman middle hitter on the women's volleyball team, recorded a total of 39 kills and 16 blocks during the team's two matches this week at Onondaga CC which included a regular-season, mid-week Mid-State Athletic Conference match on Wednesday, followed by the NJCAA Region III Pod also hosted by Onondaga. She has provided a solid presence at the net for the Spartans.
Kosegarten (Puebla, Mexico), a freshman defender, scored one of the Spartan's goals in the team's 3-2 victory over nationally ranked #2 Herkimer on the road last week helping propel Cayuga into the national rankings for the first time this season. He has played an integral role in Cayuga's defensive backfield this season.
Be sure to check out our upcoming schedules at http://www.cayugaspartans.com.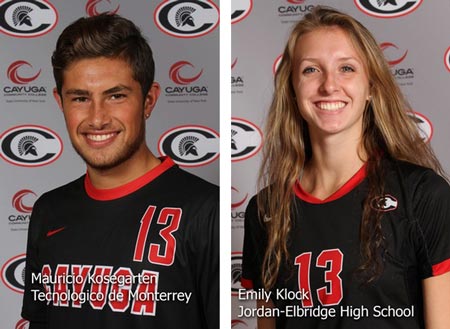 OTHER NEWS
Cayuga Community College and Wells College Sign Presidential Scholarship Agreement
44th Annual Holiday Craft Fair