LATEST CAYUGA
NEWS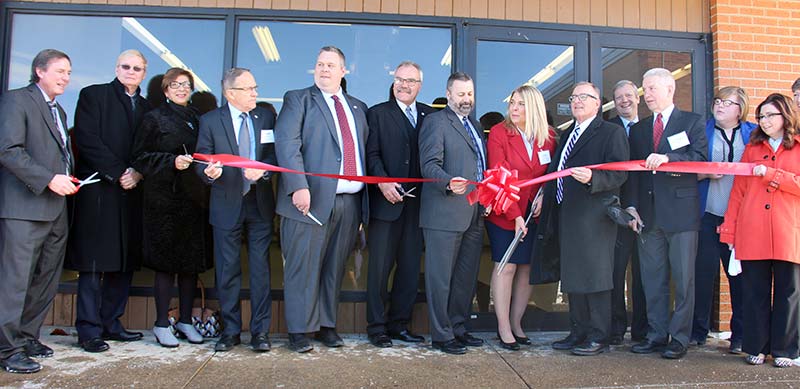 Cayuga Community College officials are pleased to announce that the ribbon cutting for the Advanced Manufacturing Institute (AMI) on the Auburn Campus has been scheduled for Thursday, January 7, 2016 at 11:00 a.m. In addition, the dedication of the new Plastics Laboratory in honor of Raymond Currier, Founder of Currier Plastics will take place. The ceremony will begin in the Student Lounge and move to the AMI building for the ribbon cutting and dedication. A reception in the Student Lounge will follow.
The creation of the Advanced Manufacturing Institute was made possible in part through the Federal Department of Labor Trade Adjustment Assistance Community College and Career Training Grant (TAACCCT). Cayuga Community College recently received SUNY and State Education approval for its first Plastics Technology Certificate and Degree Option Program, as well as the creation of four new options within its existing mechanical technology degree program — mechatronics, facilities design, computer-aided design, and precision machining.
Industry leaders throughout the region and the state saw the center's potential to benefit their operations and grow local talent. CCC President Brian Durant said, "Our 3,000-square-foot, state-of-the art AMI is designed to serve the training needs of Cayuga County and regional employers and students preparing for high demand careers by offering a range of industrial courses with emphasis on mechanical, plastics, and electrical technologies. The strong relationships and support between local plastics manufacturers and the College distinguishes the AMI's program offerings from any other college in New York State. We are delighted with the continued support of the Currier family and industry partners for their contributions to this project."
For additional information, please contact Carla DeShaw, Dean of Community Education and Workforce Development at (315) 294-8673 or (315) 415-4631.
OTHER NEWS
SUNY Selects Cayuga Community College to Receive $65,000 Grant for Occupational Therapy Assistant Training Program
Cayuga Announces Spring 2016 Speaker Series