LATEST CAYUGA
NEWS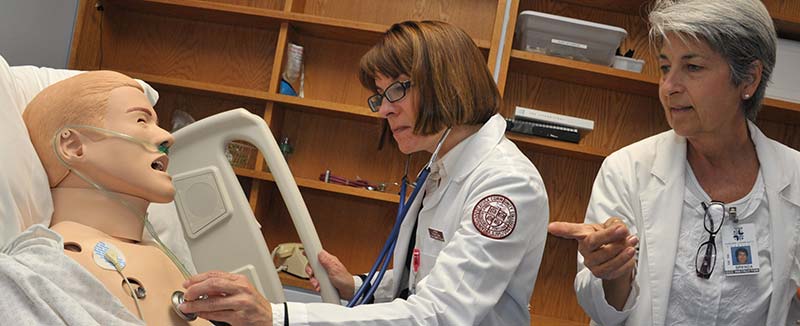 Cayuga Community College has announced the National Council Licensure Exam (NCLEX) score of its 2015 nursing class. The most recent graduates of the school's two-year associate in applied science degree achieved a 100 percent pass rate.
As Cayuga's nursing graduates have consistently done, the 2015 class surpassed the state and national average pass rates by 20 and 15 points respectively. The program's five-year pass rate is a notable 99 percent.
The Cayuga class also had a perfect rate of graduates seeking employment in nursing. Ninety percent of the graduates are employed by a hospital in the central New York region with ten percent working in long term care and residential settings.
"We are very proud of these outcomes," said Professor and Nursing program Director Linda Alfieri. "Cayuga's fortieth graduating class continues our rich tradition of excellence."
"The demands in both Cayuga and Oswego counties for nursing graduates continues to be strong and the rigorous education these students receive from Cayuga Community College prepares them not only for the NCLEX, but for careers in the demanding profession of nursing," noted Dr. Brian Durant, Cayuga's President.
Cayuga's program, which currently enrolls 110 students, attracts a diverse group of individuals including recent high school graduates, "empty-nester" parents looking to re-enter the marketplace and those looking for a second career. Further information about the program can be found at upcoming information sessions on:
Monday April 11, 2016, at 4 p.m.
Auburn Campus, Student Lounge
197 Franklin Street, Auburn
Monday, May 2, 2016, at 4 p.m.
Fulton Campus, Room F-167
11 River Glen Drive, Fulton
Additionally, Linda Alfieri welcomes calls at 315-294-8684 and emails at alfieri@cayuga-cc.edu.
OTHER NEWS
Cayuga Announces Spring 2016 Speaker Series
Billy Budd – David Rush's Adaptation of Herman Melville's Literary Classic