LATEST CAYUGA
NEWS

Harlequin Productions of Cayuga Community College is proud to present the World Premiere production of playwright Nina Mansfield's Losing Our Heads: The Guillotine Play, March 5-7, 2015 and then again March 12-14, 2015. All performances are at 8 PM in the Irene A. Bisgrove Community Theatre at the College. Admission is $7 for General and $2 for students and will be available at the door. Suggested audiences ages are middle school and above.
When approached for permission to produce her new work, playwright Mansfield's enthusiastic response included "I actually had a dream last night that the play was getting produced… so my suspicions that I am psychic have once again been confirmed. I am really excited to see how you stage it!" She and her husband will be coming to Auburn for the March 13th performance.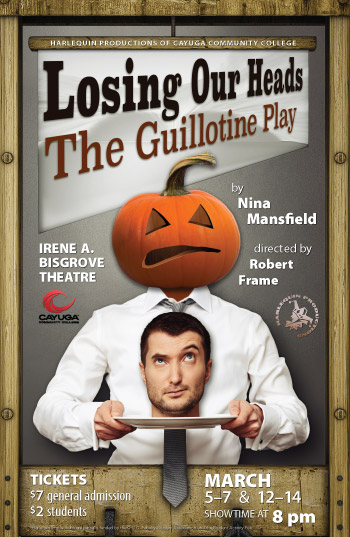 Losing Our Heads: The Guillotine Play is a comedy that intersperses absurdist scenes about the bizarre history of the guillotine with the post-beheading loves, lives and struggles of historical figures who now exist in a very contemporary version of the afterlife. Just how do you keep your head on after it's been cut off by a guillotine? Does Numbing Neck Foam really help or is it just an addicting drug? Is it De LaSalle or De Sade? Will Marie Antoinette be able to have her cake and eat it too? These questions and more will be addressed during this very funny evening looking at what could be a tragic topic!
Harlequin Productions showcases the theatrical talents of Cayuga Community College's students and this show continues that practice. The ensemble cast of Losing Our Heads features the talents of Auburn's own: Ryan Baldwin, Jeremy Gregory and Will Mosier. Southern Cayuga also has a strong presence in the cast represented by Lexi Tucker, Meg Owren and Schyler Delamarter. Nikki Baker-Lanning of Fulton and Corwin Caster from Red Creek make sure that Northern Cayuga makes its presence knowns. Ed Gould and Donovan Stanfield bring their hometown of Syracuse to Auburn. The student tech Crew features Molly Sharples, Auburn; Erica Barcomb Utica; Angela Bringley, Rochester; and Malcolm Huey North Syracuse.
Bob Frame, multiple award-winning director again shares his skills and knowledge with the students. Working with Frame to execute this vision of a cartooned afterlife include: Scenery- Robert John Andrusko; Lighting- Brad McLean; Costumes- Tiffany Howard; Props- Teri Gadsby and Mark Romig creating the Video and sound. All of these creative designers have worked professionally in their field and bring a wealth of talent to share with the students- a great opportunity.
OTHER NEWS
SUNY Presidents Ask State Legislature to "Step Up and Invest in SUNY"
CiTi, Cayuga Partner as Center for Career and Community Education