LATEST CAYUGA
NEWS

It was a season of broken records for the Cayuga Community College Men's Soccer Team, as the Spartans surpassed or matched several program standards en route to the national semifinals.
The 2018 season may go down as the best in the history of the Cayuga Men's Soccer Team, as the squad set a new College record for win-to-loss ratio and tied the program's best final ranking in the National Junior College Athletic Association (NJCAA) Division III poll, where they were slotted fourth to end the season.
"I told the team that this was a season that did nothing but break records," said Coach Chris Davison. "We won the regional tournament — our names will always be there when people look at the record books — and we had a good run at nationals. We were sorry to see the season end, but it was a remarkable year, and I'm proud of our effort."
"Congratulations to Coach Davison and the Men's Soccer Team for their hard-earned and much-deserved success this season. Anyone who watched them play saw a determined, talented team who gave their full effort in every match," said Cayuga President Dr. Brian Durant. "It was a pleasure to watch their successful season, and we are proud of how they represented Cayuga."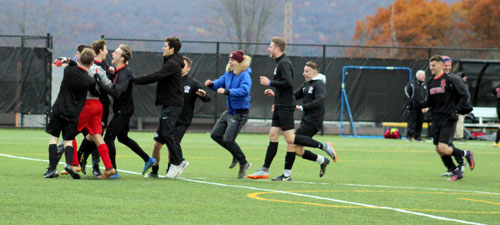 The Spartans started off the season on a four-game win streak before falling in overtime to Herkimer. They closed the regular season with a stellar record of 12-2, with the other loss coming to annual conference power Genesee Community College.
Ranked as the third seed going into the regional tournament, the Spartans topped Finger Lakes Community College 6-1 before meeting Herkimer again in the finals. Cayuga emerged victorious by a 3-1 margin, ending Herkimer's 28-year stretch of winning the region.
Cayuga entered the national tournament as the 5th seed, with a quarterfinal contest against 4th-seeded Camden County. After a scoreless regulation punctuated by repeated diving saves by Cayuga goalie Daniel Burdaspar, the teams played two scoreless overtime periods before the Spartans won 4-2 on penalty kicks, pushing their way into a semifinal contest against top-ranked Nassau.
"That match against Camden County really started as a match where both teams were playing more to avoid a mistake because they knew one goal would be the difference," said Davison. "I thought Camden County was probably the most complete team we played all year, and we were able to play them to a draw and then win on penalty kicks. (Goalie Daniel) Burdaspar was really the primary reason we won — he put on a show with everyone watching."
Playing through a howling snow and sleet storm, the Spartans and Nassau were scoreless in the first half of the semifinal contest before Nassau broke the ice with a goal 50 seconds into the second half. Cayuga threatened repeatedly for the rest of the second half but was unable to score, falling 1-0 to the eventual tournament runner-up.
"I really thought we played better against Nassau than we did against Camden County. There were large stretches of the semifinal where I thought we dominated, but we couldn't push a goal across," said Davison.
The Spartans had no reason to hang their heads, though, said Davison, who pointed out that the season was arguably the most successful in the program's history.
"I told the team that we had a good run, and that they needed to keep their heads up and keep working, whether they're transferring and moving on to another program or coming back for another season. It's important to keep going and keep the effort high," said Davison.
Postseason honors were extensive for the Spartans, as Grant Stamp was named Conference Player of the Year, and Stamp, Kent Meier, Spencer Urquiza, Aboubacar Darbo and Santiago Ortega were named to the All-Conference Team.
Urquiza and Meier were named first-team All-Region, and Stamp was named second-team All-Region. Three Spartans — Mauricio Kosegarten, Lorenz Behrendt and Ryan Higgins — were named to the Tournament All-Region Team.
Burdaspar and Kosegarten were named to the all-tournament team for nationals.
OTHER NEWS
Theatre Awards Roll In For Cayuga's Harlequin Productions
Grant Helps Cayuga Community College Continue Veterans Services Workshops