LATEST CAYUGA
NEWS

Harlequin Productions of Cayuga Community College is thrilled to announce the premiere production of Crossroads by Al Schnupp on March 23 & 24 and March 30-April 1, 2017. All performances will be at 8 PM in the beautiful Bisgrove theater on the Cayuga campus.  General Admission ($7) and Student ($2) tickets will be available at the door.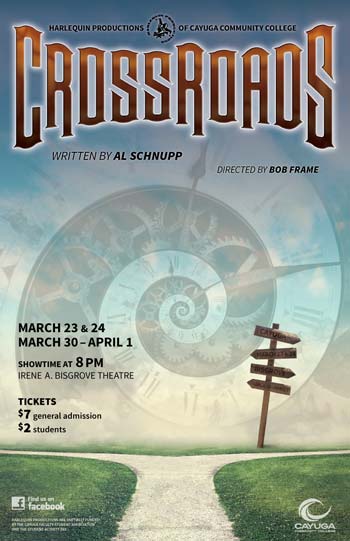 Tobias of ancient Greece is exiled from Athens after assaulting the revered playwright Sophocles because Sophocles always wins and Tobias only receives honorable mention. Tobias swears that he will not return to Athens until he has written a play worthy of winning the competition. Accompanied by his wife and children, they find themselves traveling through time with only their cart of belongings. They never know when they go to sleep at night where and when they will wake up the next morning or who they will meet! Maybe it will be Shakespeare's weird sisters in the 1699's in England or maybe avatars of the war from the children's Crusade of the 1200's in Arabia. Will Godot stop to talk instead of meeting with the men waiting for him? These and much more affect the family in profound ways as they grow to know each in a much deeper fashion that they would have had they been able to remain in their privileged Athenian lifestyle. Through it all, Tobias is writing; trying to find the story and characters worthy of the Golden Age of Theatre in Ancient Greece.
Featured in the cast are sophomores John Exner as Tobias, Ashley Hatten as his wife Helen and Becky White and Chumani Ketcham as two of the outside influences. Joining them onstage will be freshmen Hannah Abrams and Tristan Nolan as Tobias' children Melania and Demetrius. Tony Fethers, Tyler Foulkrod are joined by newcomers Sal Montgomery and Brandon Phelps to complete the group of visitors influencing the family. Jordan Taylor and Daeshuna White make up the Stage Management team.
The show is shaping up to be a visual feast. Scenic Designer Robert John Andrusko comes to the Cayuga stage after serving as the Associate Designer for the London production of 42nd Street. Mark Romig of Baltimore is creating a video display of the passage through time while Boston's Brad McLean will be lighting the action. Virginia Fennessy is designing the costumes, and Terri Gadsby is Prop Mistress.  Long- Time Harlequin advisor and nationally renowned Director Bob Frame will again be helming this voyage. This team has received numerous accolades for their work together, and Crossroads has every indication of raising and surpassing their bar for past excellence.
For further information, contact Bob Frame at framer@cayuga-cc.edu or 315-294-8640.
OTHER NEWS
Spring 2017 Speaker Series
Cayuga Announces New Emerson Scholarship Program