LATEST CAYUGA
NEWS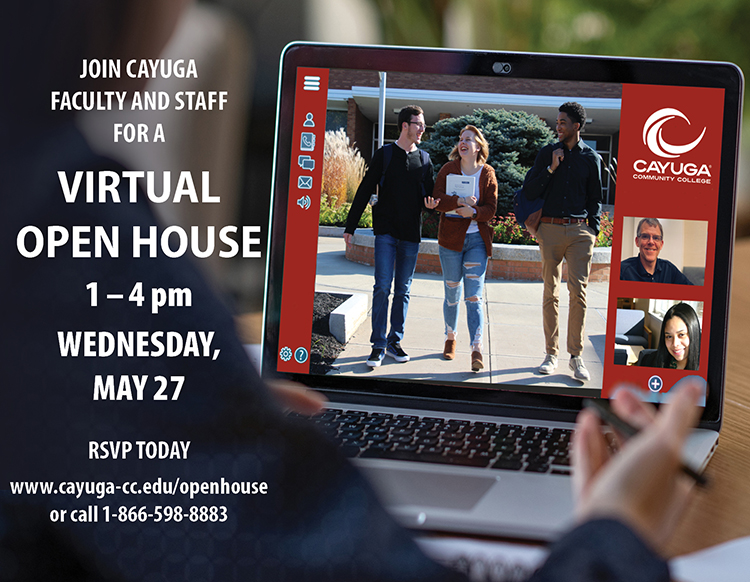 Students ready to launch their higher education experience can explore opportunities at Cayuga Community College from the comfort of their own home this May at the College's virtual open house.
Designed to ensure an enjoyable, informative experience for students and their families, Cayuga's virtual open house offers academic breakout sessions, question-and-answer opportunities and essential details on support services. The virtual open house is scheduled for 1-4 p.m. on Wednesday, May 27, 2020.
Pre-registration for the virtual open house is required, and can be completed at https://www.cayuga-cc.edu/admissions/openhouse-virtual/registration/.
Cayuga's Director of Admissions Bruce Blodgett said the virtual session helps students and their families discuss opportunities and research their academic interests with the College's expert faculty and staff.
"Our virtual open house creates a chance for students to learn directly from faculty about a program that has captured their interest. Students can discover how these programs will either prepare them to transfer after earning their degree at Cayuga, or offer the essential skills they need for their chosen career," said Blodgett. "We're excited to help students identify the right path for their higher education experience."
The virtual open house offers a series of breakout sessions dedicated to academic programs and essential College services, and helps students register for courses.
From 1:30-2 p.m., available breakout sessions include internship opportunities and the college honors program, student clubs and organizations, Cayuga's award-winning nursing program and the new Culinary Arts program. From 2:30-3 p.m., the breakout sessions cover mechanical technology and computer technologies; psychology, criminal justice and education; and the programs in Cayuga's School of Media and the Arts.
The final breakout sessions from 3:30-4 p.m. discuss programs in the School of Business, the occupational therapy assistant program and Cayuga's transfer services.
Between their scheduled breakout sessions, students can chat online with Cayuga's Admissions and Financial Services staff, who can help complete admissions and financial aid applications.
Students can also find materials related to Cayuga's programs and student clubs, and virtually visit the campuses, at https://www.cayuga-cc.edu/admissions/openhouse-virtual/.
OTHER NEWS
Two Cayuga Students Among Inaugural SUNY Scholarship Winners
Cayuga Celebrates Nursing Grads in Drive-Thru Ceremony