LATEST CAYUGA
NEWS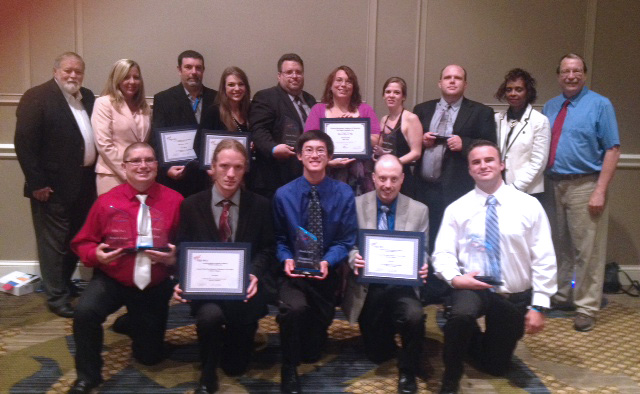 Cayuga Community College was recently represented by former and current students at the Future Business Leaders of America-Phi Beta Lambda (PBL) national conference in Nashville, Tenn. More than 1,800 American college students traveled to the historic city to showcase their talents as future business leaders and compete for more than $79,000 in cash awards.
Cayuga's chapter of the PBL selected 2014 alumni, James Granger and Natalie Krone (who was recently elected as the NYS PBL state president), and current students, Rebecca McDonald and Rich Myers to attend the conference. Each of the delegates represented the college well.
Ms. Krone received the prestigious "Who's Who Among PBL students" award in recognition of her work on behalf of Cayuga Community College for Phi Beta Lambda. Mr. Granger placed second nationally in the Justice Administration competitive event. He is the only Cayuga PBL chapter member in recent school history to finish in the top three in this event.
Three of the Cayuga representatives qualified in the national finals in their respective competitions: Jim Granger (Business Law), Rebecca McDonald (Accounting Analysis & Decision Making and Accounting Principles) and Rich Myers (Computer Concepts). An additional accolade was Cayuga's receipt—along with only two other colleges from New York—of the "Gold Seal Award" for chapters who exhibit outstanding contributions to the advancement of PBL.
"I am exceedingly proud of the individual performances of our student representatives at the PBL conference," says Amy Valente, Cayuga's PBL chapter faculty adviser. "They are bright and dedicated young people who will no doubt succeed in their educational and professional endeavors. Their leadership and efforts on campus undoubtedly helped Cayuga earn PBL's Gold Seal institutional-level award."
About Future Business Leaders of America-PBL
PBL is a leading business education association. It boasts a membership of more than 250,000 high school and middle school students, college and university students, faculty, educators, administrators and business professionals. More information on PBL membership, events and programming can be found at http://www.fbla-pbl.org.
OTHER NEWS
Cayuga Community College to Co-Sponsor Owasco Lake Day on June 25 at Emerson Park
CCC to Expand Its Fulton Nursing Program Beginning Fall 2015