LATEST CAYUGA
NEWS

In only their second year of competition, the Cayuga Community College Women's Cross Country team captured the Mid-State Athletic Conference Championship on Saturday with a great team performance.
Competing at Finger Lakes Community College, the team of Uraina Bradford-McLean, Nyah Firmin, McKayla Murray, Liliana Santana, Marley Stevens and Megan Swartwood outran 5 other colleges for the conference championship. The Cayuga Men's Cross Country Team of Andrew Giannettino, Damon Litzenberger, Michael Lynch, Ngor Nyang, Rob Ward and Brandon Whitman finished third in the men's conference championship.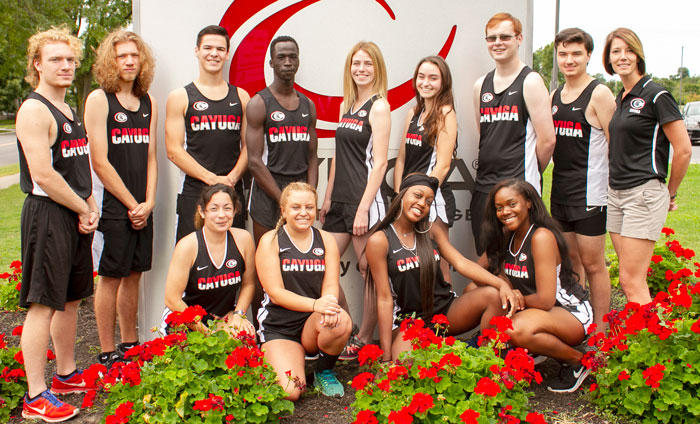 "The student-athletes on our cross country teams showed incredible determination throughout this season, and it paid off with a great team-wide performance at the Mid-State Athletic Conference Championship," said Coach Toni Giannettino. "It's great to see that in just our second year of competing we're able to succeed on this level. Our runners have really come together and supported each other this season, and I'm very proud of everything they have accomplished."
Giannettino was also named Mid-State Athletic Conference Coach of the Year for her work leading the Women's Cross Country Team to the conference championship.
"I am so thankful to my fellow cross country coaches for voting me Women's Cross Country Coach of the Year," she said. "It was a real honor."
Both of Cayuga's cross country teams will compete on October 27, 2018 in the Region III Championship Meet at Mohawk Valley Community College and at the National Junior College Athletic Association Championship Meet on November 3, 2018.
Giannettino said the team is preparing for the upcoming meets, with a focus on making sure everyone is healthy.
"We've scaled practices back a bit, just to make sure everyone is fresh and in the best shape possible to compete at Regionals and Nationals," she said. "After a full season of practices and meets, it's really all about making sure everyone is healthy and prepared for the next challenge."
OTHER NEWS
Cayuga and Le Moyne College Sign Agreement Creating Pathways for Students
Fall Shows by Cayuga's Harlequin Productions Promise Surprises