LATEST CAYUGA
NEWS

The Cayuga Community College Men's Soccer Team will start their final push for a national championship Thursday, Nov. 8, 2018, when they take the field in the National Junior College Athletic Association (NJCAA) Division III Men's Soccer Championship.
The Spartans are ranked 5th nationally and enter the tournament with a 14-2 record after defeating Herkimer 3-1 to win the Region III, Division B title.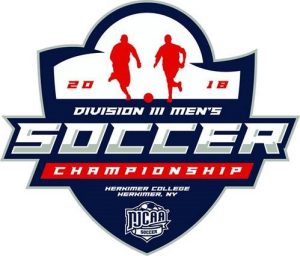 "We stuck to our game plan, and every player in the pitch played how they should have. We came together and beat a team that had a 28-year stretch of regional titles. Everyone really played their hearts out," said Coach Chris Davison of the team's victory over Herkimer.
Cayuga is the 5th seed in the national tournament and will face 4th-seeded Camden County at 1:30 p.m. at Wehrum Stadium in Herkimer. Camden County, with a 15-2-1 record on the season, is ranked 4th nationally.
Cayuga President Brian Durant congratulated the Spartans, adding that he was looking forward to seeing them compete in the national tournament.
"Winning the Region III, Division B title and making the national tournament are incredible accomplishments for our student-athletes and Coach Davison. I know everyone has worked hard to get to this point, and they're excited about competing in Nationals," said Durant. "Congratulations to everyone involved with the team, and good luck in Nationals."
Cayuga entered the season ranked 17th in the United Soccer Coaches Poll, and they closed the regular season with a 12-2 record, earning them the third seed in the Region III, Division B Tournament. The Spartans defeated Finger Lakes Community College 6-1 in the semi-finals, setting up the title contest against Herkimer.
Cayuga took the early lead in the contest when sophomore Mauricio Kosegarten scored on a direct kick, and the Spartans held a 1-0 lead after the first half thanks to impressive work by freshman keeper Daniel Burdaspar.
Herkimer tied the contest early in the second half, but Cayuga quickly answered with a goal by freshman Lorenz Behrendt. Freshman Kent Meier added the final goal later in the second half, securing the Spartans' victory.
OTHER NEWS
New Cayuga Lacrosse Program to Start in 2019
Cultural Speaker Series To Honor Veterans