LATEST CAYUGA
NEWS

Sarah Yaw, Cayuga Community College faculty member and Auburn native, was recently honored by Engine Books, the publisher of her debut novel. Yaw's You Are Free to Go was awarded Engine Books' 2013 Novel Prize.
Noted author Robin Black judged the 2013 submissions. Black is best known for her story collection, "If I Loved You, I Would Tell You This," which was published by Random House in 2010 and received international acclaim by publications such as O, the Magazine, The Chicago Tribune and San Francisco Chronicle. Black's new novel LIFE DRAWING is forthcoming from Random House, July, 2014, and Picador UK, April 2014. It has been called "a magnificent literary achievement," by Karen Russell, and "a riveting story about the corrosive effects of betrayal," by Alice Sebold.
You Are Free To Go is described by Engine Books' publisher, Victoria Barrett, as "a wise, deeply moving story about the porousness of borders, and the kindness, connection, and loss that transcend them."
Jacket Description: 
"Moses and Jorge will never leave Hardenberg Correctional Facility. Outside its walls, Gina, Shell, and Ellen will never escape its influence, or the way it tethers them to one another. When Jorge dies in his cell, lives within and beyond the prison walls are upended, testing the boundaries we all draw to keep the good in, the hurtful out."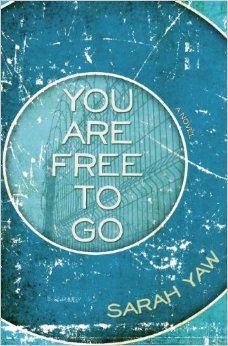 You Are Free to Go will be published by Engine Books on September 9 and will be available in both paperback (ISBN 978-1-938126-21-5) and as an Ebook (ISBN 978-1-938126-25-3). Advance orders can be placed at online retailers amazon.com, bn.com (Barnes and Noble), and at independent bookstores via indiebound.org.  Events will be scheduled throughout the region supporting the publication of the book, including a 9/11 launch at River's End Bookstore.
Yaw received an MFA degree in fiction from Sarah Lawrence College. She has been a member of the Cayuga faculty since 2006 where she has worked as a writing specialist, championed regional efforts to support student veterans, and worked collaboratively with area high schools. She lives and writes in Auburn, N.Y. As part of the promotion for her 224-page novel's release, Yaw will participate in a 10-city tour sponsored by Engine Books.
Engine Books is a boutique fiction press publishing novels, short story collections, collected novellas, and related volumes. In addition to You Are Free to Go other recent titles include Fort Starlight by Claudia Zuluaga, Other Heartbreaks by Patricia Henley; Myfanwy Collins' Echolocation; and Half as Happy by Gregory Spatz. Engine titles have been reviewed in the New York Times, O, The Oprah Magazine, the Washington Post, Booklist, Publishers Weekly and other outlets. More information about Engine Books can be found at enginebooks.org.
OTHER NEWS
Three Cayuga Community College Staff Members Named 'Campus Angels' by On Point for College for their Commitment to Low-Income and First Generation Students
CCC Golfers Earn Region III Berths