LATEST CAYUGA
NEWS
Cayuga Community College has been recognized as a Gold-Level Fit-Friendly Worksite by the American Heart Association for supporting employees in adopting healthy nutrition and fitness habits. The College is the first employer in Cayuga County to receive this award.
The Fit-Friendly Worksite initiative acknowledges employers who implement practices and programming to decrease healthcare expenses and increase productivity. Cayuga was recognized through the American Heart Association's "My Heart. My Life." initiative for:
offering employees physical activity support,
providing/increasing healthy eating options at the worksite,
promoting a wellness culture, and
implementing at least nine criteria as outlined by the American Heart Association in the areas of physical activity, nutrition and culture.
American employers are losing an estimated $225.8 billion a year because of healthcare expenses and health-related losses in productivity, and those numbers are rising. Many American adults spend most of their waking hours at sedentary jobs. Their lack of regular physical activity raises their risk for a host of medical problems, such as obesity, high blood pressure and diabetes. Employers face $12.7 billion in annual medical expenses due to obesity alone.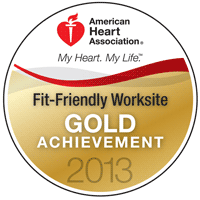 "We are honored to be recognized by the American Heart Association for our efforts to create a workplace culture conducive to healthful choices and habits for our employees," said Michael Pastore, Cayuga's registrar and co-coordinator of the SUNY Wellness Challenge. "The benefits of a healthy workforce are many and meaningful both in terms of personal wellbeing and workplace productivity."
Cayuga acts on its understanding of the positive impact of general health and wellness not just personally for its employees but also on its bottom line. By providing a fitness center, walking trail, healthy food options, and group participation programs, such as the SUNY Wellness Challenge, Cayuga continues to support employees in their pursuit of a healthier lifestyle.
About the American Heart Association
The American Heart Association is devoted to saving people from heart disease and stroke – America's No. 1 and No. 4 killers. We team with millions of volunteers to fund innovative research, fight for stronger public health policies, and provide lifesaving tools and information to prevent and treat these diseases. The Dallas-based association is the nation's oldest and largest voluntary organization dedicated to fighting heart disease and stroke. To learn more or join us, call 1-800-AHA-USA1 or any of our offices around the country, or visit heart.org.
OTHER NEWS
Cayuga Community College Announces New Scholarship Program
Harlequin Production of Cayuga Community College Announces Their Spring Show