LATEST CAYUGA
NEWS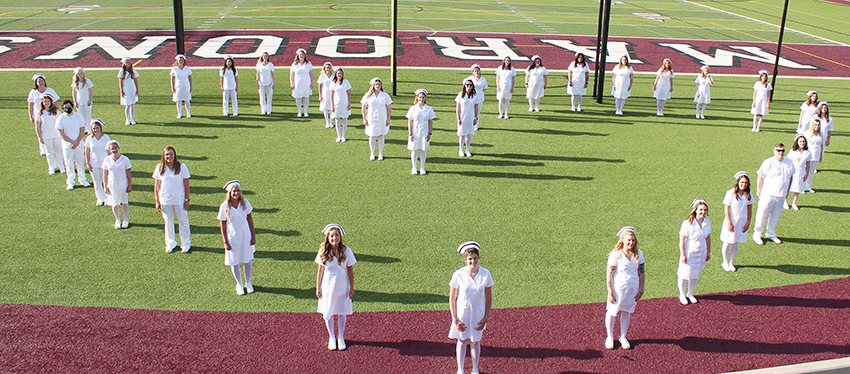 With graduates' families and friends watching from a safe social distance, Cayuga leaders and faculty celebrated the Class of 2020 nursing graduates on Friday, applauding their accomplishments and praising their dedication to helping those in need.
The drive-thru ceremony, which saw dozens of cars with family and friends passing graduates with signs, balloons, and flowers, celebrated the 36 students graduating in 2020 from Cayuga's Nursing Program. For this year, the socially distant ceremony replaced the traditional nurses' pinning ceremony.
Cayuga's Vice President of Academic Affairs and Provost Dr. Ron Cantor told students that "quite literally, the whole world is welcoming you with gratitude and awe."
"A community college serves its community in many ways. Perhaps our most vital contribution at this moment is the turning-out of another cohort of well-prepared nursing professionals. Nursing graduates: We salute your exceptional dedication, caring, hard work and courage," said Cantor.
Like all Cayuga students, nursing students completed their courses through a distance learning format in the spring 2020 semester. Coordinating with Cayuga's diligent faculty, the graduating students in the Nursing Program completed virtual simulations for their clinical mandates, along with other coursework, to meet the program's requirements.
Nursing Program Director Mary Driscoll said the graduates were entering the workforce at a challenging time as communities respond to the pandemic, but said they had the commitment, knowledge and work ethic to help the response.
"Our nursing faculty are so proud of this graduating Class of 2020. This is a rigorous program, with high expectations that demand significant commitment from our students. All of these graduates met these academic demands, but also overcame obstacles from the COVID-19 pandemic," said Driscoll. "We can't say enough about their dedication and excellence, and we know they are ready to help our communities respond to the pandemic."
Co-Class Presidents Meaghan Pinker and Destiny Fitzsimmons thanked faculty for their patience and leadership, and said the graduating class had become a family as they completed the challenging program.
Pinker, who will be helping the pandemic response in Long Island, said the program proved to her that she'd "found something I want to do every day for the rest of my life."
"These two years were rigorous, on us and our family and friends as well. When our class first started, we were strangers. Now we're all ending as a family, taking our first career steps together," said Pinker. "I never thought we'd be ending our time at Cayuga like this, but we're still very thankful, and we're ready to help our workforce and the nurses who are battling this pandemic."
Fitzsimmons, who will begin working at Oswego Hospital's ICU, said the graduates should be proud of their accomplishments and of their decision to pursue a career in nursing.
"Our faculty and instructors pushed us to be the best that we could be, and all of us worked hard to get to this point. There are so many obstacles, so many challenges that we overcame, especially with the pandemic," said Fitzsimmons. "All of us should be proud of where we are right now, and we should remember our classmates and everyone who helped us get through this."
Cayuga's award-winning nursing program is one of the most successful associate's degree programs in New York. The curriculum balances theoretical knowledge and field practice, with learning experiences coming in the classroom, laboratory and clinical settings. Since 2013, almost 98 percent of graduates from Cayuga's program have passed the National Council Licensure Examination for Registered Nurses on their first attempt.
For more information on Cayuga's Nursing Program, visit https://www.cayuga-cc.edu/academics/schools/health-sciences/nursing/.
OTHER NEWS
Discover Cayuga at Virtual Open House
Now is the Time to Recognize Community College as Your Best Choice