LATEST CAYUGA
NEWS

Three faculty and staff members from Cayuga Community College were named recipients of the prestigious SUNY Chancellor's Awards for Excellence for 2017. Instituted in 1972 by the State University of New York, the Chancellor's Award recognizes exceptional contributions to their college/university by dedicated professionals. Recipients must show a markedly strong dedication to their work or scholarship.
"These individuals represent the qualities that characterize excellence and are fine examples of what the College values in all its faculty and staff," said Dr. Brian M. Durant, President of Cayuga Community College. "They provide Cayuga and our students with the highest quality instruction, professionalism, and support. It is my great honor to celebrate the achievements of this year's recipients."
Recipients include: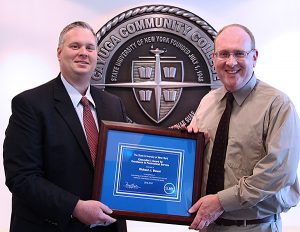 Recipient of the SUNY Chancellor's Award for Excellence in Teaching
Richard J. Bower, Ph.D. – Professor of English and Writing
Dr. Bower joined Cayuga as an English Instructor in January 2000. He received his Bachelors of Arts in English from SUNY Geneseo, Masters of Arts in English from SUNY Oswego, and his Ph.D. in English from SUNY Albany. He has maintained numerous professional affiliations, including SUNY Council on Writing (COW), Conference on Basic Writing (CBW), and Teaching English in the Two-Year College (TETYC) and has participated in a number of research conferences related to his field.
Recipient of the SUNY Chancellor's Award for Faculty Service
Jennifer L. Nichols – Associate Professor of Nursing
Professor Nichols joined the nursing staff at Cayuga in September of 2008 after receiving her Masters of Science in Nursing from SUNY Upstate Medical University in May 2008. She has served as a mentor to the new director of the Occupational Therapy Assistant Program and has provided the director with invaluable information about admissions, assessment, and program development. She is a member of the American Association of Nurse Practitioners and New York State Nurse Practitioners Association, Lake Ontario Chapter.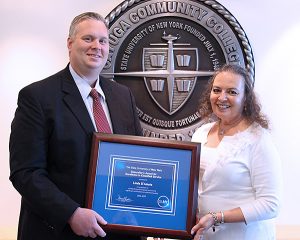 Recipient of the SUNY Chancellor's Award for Classified Service
Linda D'Amato – Senior Typist, Academic Partnerships/Cayuga Advantage
Linda D'Amato joined Cayuga in 2007. Linda manages Cayuga Advantage registrations for almost 2,400 students in 23 schools. She provides high school administrative contact and maintains the program's operational schedule. In addition, Ms. D'Amato provides coordination between Cayuga administration and students and parents for the London Study Abroad Program.
OTHER NEWS
Cayuga Community College Adds Cross Country to Athletics Program
Cayuga Announces New Head of Fulton Campus