LATEST CAYUGA
NEWS

The "Presidential Scholars Transfer Program" will provide guaranteed admission and continued financial assistance to any Cayuga Presidential Scholarship recipient who wishes to attend nearby Wells College.
Cayuga President Brian Durant and Wells College President Jonathan Gibralter have signed a formal agreement that will allow Cayuga Presidential Scholars to be guaranteed admission to Wells College and to receive a President's Award at Wells worth a minimum of $22,000 annually for up to four years.
The Cayuga-Wells Presidential Scholars transfer agreement provides a way for high-achieving Cayuga students from Cayuga and Oswego counties to be guaranteed access to Cayuga County's only private, four-year college. Under the agreement, both colleges will partner to promote this new program to prospective and current students and host information sessions and other events on both campuses and in other locations.
"The Presidential Scholars transfer program is a perfect opportunity to provide an accessible, affordable pathway for students to continue their educational pursuits at a nationally recognized four-year institution," said Cayuga's President Durant. "It's a way to keep our best students engaged with and connected to the communities that are right here in our own backyard," President Durant said.
"We want to make it as easy and seamless as possible for Cayuga students to continue their studies at Wells College," said Wells College President Gibralter. "I look forward to opening our doors to Cayuga Presidential Scholars-driven, motivated students who already have a proven track record of academic achievement, service-based learning, and peer leadership. They will fit in beautifully at Wells," said President Gibralter.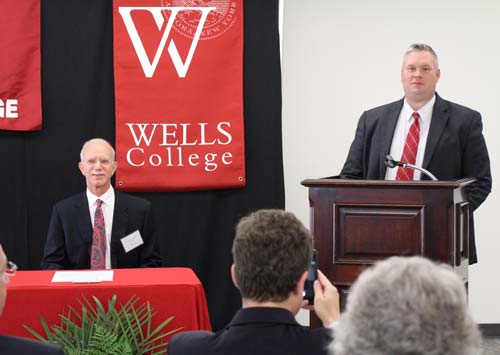 ABOUT THE CAYUGA/WELLS
PRESIDENTIAL SCHOLARS TRANSFER AGREEMENT
The Cayuga Presidential Scholarship program recognizes students in Cayuga County and Oswego County who graduate in the top 20% of their high school class. Students from Jordan-Elbridge, Red Creek, Skaneateles, Tyburn Academy, and Union Springs Academy are also eligible. Scholars may apply for full-tuition scholarships, must be enrolled full-time at Cayuga, and maintain a 3.0-grade point average (GPA) each semester to remain eligible.
The Cayuga scholarship covers full tuition, minus any Pell grants, Tuition Assistance Program (TAP) aid or other scholarships, for up to four semesters at the Cayuga Community College, which has campuses in Auburn and Fulton. CCC Presidential Scholarships are made possible through the generosity of the Cayuga County Community College Foundation.
Under the Cayuga/Wells Presidential Scholars transfer agreement, Cayuga Presidential Scholars are then guaranteed admission to Wells College, where they will receive a President's Award scholarship for up to four years of full-time study. The President's Award, one of the highest annual merit scholarships available to Wells students, is currently valued at a minimum of $22,000 per academic year, with a cumulative possible maximum award of $88,000. President's Award recipients demonstrate strong academic records and co-curricular achievement and are actively engaged in communities outside of the classroom.
To be considered for the Presidential Scholars Transfer Program, Cayuga Presidential Scholars must have a minimum of two semesters of full-time study at Cayuga in courses in the liberal arts and sciences while maintaining a 3.5 cumulative grade point average. Once these students matriculate at Wells College, they will work closely with a Wells faculty advisor to apply Cayuga course credits to their major program(s) to the greatest extent possible.
For more information on the Cayuga Community College Presidential Scholarship, please see the Cayuga Presidential Scholarship program website, or contact the Cayuga Admissions Office at admissions@cayuga-cc.edu or call 866-598-8883.
For more information on the Wells College President's Award program, please visit the Wells College Tuition and Aid page, or contact the Wells College Office of Admission at admissions@wells.edu or 800-952-9355.
OTHER NEWS
Men's Soccer Beats Undefeated Nationally Ranked Herkimer CC
Spartan Athletes-of-the-Week for September 25