LATEST CAYUGA
NEWS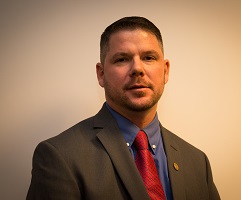 Cayuga Community College Board of Trustees has announced the appointment of its newest Trustee. The Honorable Patrick V. Mahunik has been appointed by the Cayuga County Legislature to fill the unexpired term of Mr. Joseph Runkle who resigned in February, 2016. Mr. Mahunik will serve as Vice Chair of the Board's Finance and Audit Committee and the Board's legislative liaison.
"We are excited to have someone with Pat's experience join us," said Jeffrey L. Edwards, Chairman of the Board of Trustees at the College. "The Board looks forward to working with Pat on Cayuga's future," he added.
Mr. Mahunik has been a Cayuga County Legislator since 2008 and currently serves as Principal of Alternative Education at OCM BOCES in Liverpool. He is involved in various youth sports teams and is a member of numerous local and regional boards.
OTHER NEWS
Inauguration of Cayuga Community College's Eighth President
CCC Alumni Association Presents Annual Awards