ADMISSIONS VIRTUAL
OPEN HOUSE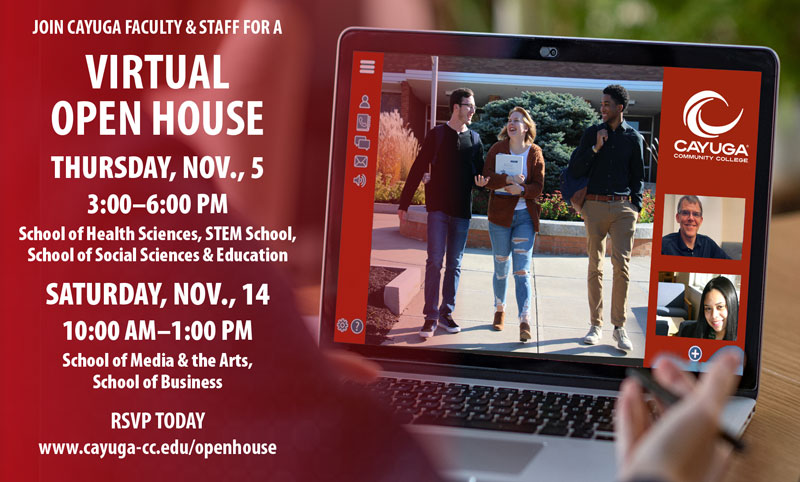 Browse our list of virtual opportunities to learn about Cayuga, connect with our community, and discover all the reasons why Cayuga is the SMART CHOICE. Chat with Admissions and Financial Services staff, and learn about Cayuga's degree programs.
With plenty of online course options, we provide flexible learning options to fit your busy schedule. Check back often to see what we've added.
VIRTUAL OPEN HOUSE FOR FALL 2020
Meet One-on-One with Admissions or Financial Aid
Connect with one of our Admissions Representative or Financial Services staff by live chat or phone. You will have the opportunity to ask questions about Cayuga Community College and receive personalized attention from our Admissions and Financial Services staff.
Pre-registration is required to attend this event. RSVP today by submitting the registration form. Questions? Contact Admissions at 1-866-598-8883.
WHAT TO HAVE READY
If you are planning on attending the Financial Aid portion of the Virtual Open House and want help filling out your FAFSA application, please have copies of:
Both student and parent social security numbers
Birth dates
FSA ID Username and Passwords (if established) and parent and student email addresses
If you are looking to start in Spring 2021, please have student and parent 2018 income and asset information (federal taxes, etc.) readily available
If you are looking to start in Fall 2021, please have student and parent 2019 income and asset information (federal taxes, etc.) readily available