OCCUPATIONAL THERAPY ASSISTANT

A.A.S.
PROGRAM OVERVIEW
The Occupational Therapy Assistant program at Cayuga Community College's Fulton Campus prepares the student to serve as an entry-level Occupational Therapy Assistant, and admits students every Fall semester.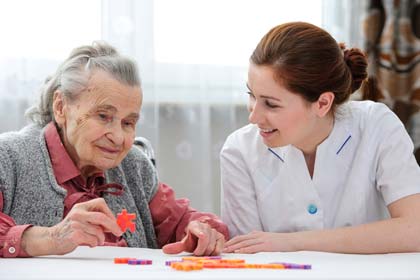 Cayuga Community College is evaluating future options for the Occupational Therapy Assistant program on our Fulton campus and is not currently accepting applications for the Fall 2022 semester.
Cayuga is committed to fulfilling its obligations to students currently enrolled in the program.
Students interested in the Occupational Therapy Assistant program are encouraged to apply and enroll in the Liberal Arts and Sciences: Math & Science degree program.
Students can discuss their academic options with an admissions representative at admissions@cayuga-cc.edu or 1-866-598-8883.
ADDITIONAL RESOURCES

AND DOWNLOADS
To view the above PDF files, you will need to Adobe Reader, a free download.
UPCOMING
INFORMATION SESSIONS
Upcoming Information Sessions for OTA Admission
UPCOMING VIRTUAL INFORMATION SESSIONS
Day
Date
Time
Location
No Available Information Sessions at this time.
PROGRAM
ACCREDITATION
The occupational therapy assistant program is accredited by the Accreditation Council for Occupational Therapy Education (ACOTE) of the American Occupational Therapy Association (AOTA). ACOTE has granted a 7-year accreditation of Cayuga's OTA program which is the maximum accreditation period granted for new programs. AOTA is located at:
6116 Executive Boulevard
Suite 200
North Bethesda, MD 20852-4929
ACOTE's telephone number c/o AOTA is (301) 652-AOTA, and its Web address is https://acoteonline.org/. Graduates of the program will be eligible to sit for the national certification examination for the occupational therapy assistant administered by the National Board for Certification in Occupational Therapy (NBCOT).
After successful completion of this exam, the individual will be a Certified Occupational Therapy Assistant (COTA). In addition, all states require licensure in order to practice; however, state licenses are usually based on the results of the NBCOT Certification Examination. Note that a felony conviction may affect a graduate's ability to sit for the NBCOT certification examination or attain state licensure.
OTA AS
A CAREER
WHAT IS THE EMPLOYMENT OUTLOOK FOR OCCUPATIONAL THERAPY ASSISTANTS?
The growing demand for occupational therapy services is a product of the country's aging population along with ongoing changes in the delivery of healthcare services. The Bureau of Labor Statistics projects employment of OTAs will increase 32 percent by 2029. The New York State Department of Labor reports the average salary for an entry-level OTA is $42,960 in NYS. The average salary for all OTAs within NYS is $63,270.
WHAT DO OCCUPATIONAL THERAPY PRACTITIONERS DO?
Occupational therapy practitioners use purposeful activities to help individuals of all ages gain the skills to perform the everyday things that they need and want to do. Occupational therapists and occupational therapy assistants work with individuals who are experiencing limitations as a result of physical injury, illness, developmental disability, the aging process, or psychological or social issues.
An OTA might:
help children with developmental delays improve fine motor and hand-eye coordination skills for increased participation in classroom activities.
help clients regain daily living skills after hip replacement or stroke.
educate patients in the use of adaptive equipment to ensure safety and independence upon discharge from the hospital.
work with individuals who have experienced injuries in order to modify work environments and establish a graded return to work programs.
develop coping strategies for clients overcoming mental health issues.
WHERE DO OT PRACTITIONERS WORK?
The skills of occupational therapy professionals can be applied to a variety of traditional and emerging practice settings.
Traditional practice settings include:
Hospitals, rehabilitation facilities, long-term care facilities, schools, private homes, and community agencies.
Emerging areas of practice include:
Health and wellness programs, sheltered workshops, veteran's programs, animal-assisted therapy programs, activities director, driver rehabilitation training, assistive technology consulting, and home modifications consulting.
WHAT ARE THE TWO LEVELS OF OT PRACTITIONERS?
Registered Occupational Therapist (OTR): The OTR has earned an entry-level master's degree, passed the national certification examination given by the National Board for Certification of Occupational Therapy (NBCOT) and is licensed to practice by NYS. OTRs evaluate clients, establish treatment plans, and supervise occupational therapy assistants.
Certified Occupational Therapy Assistant (COTA): The COTA has earned an associate's degree at an accredited institution, has passed the national certification exam given by NBCOT and is licensed to practice in NYS. In traditional practice settings, the COTA carries out the treatment plan under the supervision of the OTR.
The educational preparation for training as an occupational therapist and as an occupational therapy assistant are two distinct paths of study resulting in two distinct but complementary roles. An OTA student considering a transfer to an OT program at a different institution is subject to the requirements and transfer policies of that institution.
PROGRAM
LEARNING OUTCOMES
After successful completion of the OTA program, students will be able to:
Accurately gather information regarding the client's performance of occupations.
Demonstrate entry-level competency in performing the skills required to meet the objectives of an intervention plan.
Demonstrate mature, responsible workplace behaviors.
Customize intervention strategies, activities, and environments to maximize client outcomes.
Utilize effective verbal, nonverbal and written communication.
ABOUT
THE PROGRAM
Upon completion of the Occupational Therapy Assistant (OTA) program, the graduate will earn an Associate in Applied Science degree and will be prepared as an entry-level OTA.
Program coursework consists of general education classes focusing on biology, English, the social sciences and OTA professional classes. The OTA program incorporates the use of classroom, laboratory and fieldwork experiences toward the development of the therapeutic skills and professional behaviors necessary for effective practice.
NOTE: OTA professional classes are typically offered only on the Fulton campus. Other required courses may be taken on either campus or online. The program admits students every Fall. As a result of the COVID-19 pandemic, at this time some OTA courses or portions of OTA courses are being taught through distance learning.
OTA courses are offered one time per year and must be taken in sequence starting in the Fall semester.
The OTA curriculum includes 4 required fieldwork rotations. Students travel to community settings for each of the two Clinical and Community Practice fieldwork courses outside of scheduled class times. Two Level II fieldwork courses comprise the final semester of the program, and each consists of 8 weeks of full-time supervised training in a clinical setting. Students gain in-depth experience in delivering occupational therapy services to clients of various ages, backgrounds and conditions. Level II fieldwork may require special housing. Transportation to all fieldwork sites is the responsibility of the student.
NOTE: Students are required to take OTA 120, Clinical and Community Practice IB fieldwork course during the 10-week summer session after successful completion of the second semester of the program. The summer course is offered only in this sequence and is a requirement for continuation as a third-semester student and for graduation within the stated timeline. Students may not be eligible for financial aid during the summer session.
APPROXIMATE COST

OF ATTENDANCE
Approximate Cost of Program Attendance. NOTE: Fees are subject to change

| Current Cost | OTA Program 2020 Fall Semester | OTA Program 2021 Spring Semester | OTA Program 2020-2021 Academic Year | Total Cost of OTA Program 2 Years |
| --- | --- | --- | --- | --- |
| Tuition | $2,496 | $2,496 | $4,992 | $9,984 |
| Student Fees | $588 | $553 | $1,141 | $2.282 |
| Program Specific Fees | $312 | $382 | $694 | $1.388 |
| Books and Supplies | $1,000 | $800 | $1,800 | $3,600 |
| Loan Fees | $100 | $100 | $200 | $400 |
| Distance Ed Fees | $200 | $200 | $400 | $800 |
| Total | $4,696 | $4,531 | $9,227 | $18,454 |
ADMISSION
REQUIREMENTS
New full- and part-time students seeking admission to the OTA program must file both a Cayuga Community College application and an application to the OTA program. Preadmission requirements pertaining to medical or disabling conditions are prohibited by regulation of the Americans with Disabilities Act. For students with documented functional limitations, reasonable accommodations will be made through Cayuga's Office of Accessibility Resources.
COURSE SEQUENCE

AND LENGTH OF PROGRAM

The curriculum is a recommended two-year course sequence. All students are required to complete all graduation requirements within four years from the start of enrollment in the first OTA course. OTA 210 and OTA 211 (both level II fieldwork courses) must be completed within 18 months of completing the academic portion of the curriculum.

OTA courses are offered one time per year and must be taken in sequence starting in the Fall semester.