ACCOUNTING

A.A.S.

This program is intended for those planning to enter the accounting profession upon completion of the degree.

PROGRAM
LEARNING OUTCOMES
Apply knowledge of the activities of business and government and of the environments in which they operate
Apply a basic knowledge of finance, including financial statement analysis, capital budgeting and the time value of money
Function effectively with an understanding of the internal structure and operations of a business
Demonstrate knowledge of financial accounting, including content, concepts, and structure of the various statements, both for internal and external use
Understand the process of identifying, gathering, measuring, summarizing and analyzing financial data in business organizations, including the use of computer based information
Utilize knowledge of management accounting in making critical decisions
Ability to perform the routine activities of a small business accountant
Apply a basic knowledge of tax accounting and appreciate its impact on financial and managerial decision-making
Apply accounting knowledge to solve real-world problems
Continue your education at a 4-year institution
CAREER

POSSIBILITIES

Junior staff accountant, general account manager, account clerk and others. Businesses that have hired our accounting students include:
Cuddy & Ward, CPAs
YMCA
Cayuga Community College
Jackson Hewitt
Dany Cuddy Financial Services
Wegmans
Buffington & Hoatland, CPAs
Merry Go Round Playhouse
Carrolls Corporation
NYS Department of Tax
Cooperative Extension
Premier Payroll Services
Goulds Pumps
H&R Block
TRANSFER

INFORMATION

Students should contact their advisor and/or the Coordinator for Transfer and Articulation in the Centers for Student Engagement and Academic Advisement for information on transfer planning. Early consultation to plan the most appropriate course sequence will optimize transferability.

Popular transfer schools include:
SUNY Oswego
SUNY Empire State College
SUNY Brockport
SUNY Alfred
SUNY Cobleskill
SUNY Cortland
LeMoyne College
Niagara University
Ithaca College
Syracuse University
Excelsior College
Keuka College
RIT
"As a non-traditional student, it was great to go back to school for something I really enjoy, accounting, and be in classes that were smaller, where the professor can actually take the time to answer your questions. It was nice to be surrounded by other students that were serious about the major and professors that were knowledgeable and hands on."
"My experience in the Accounting program at Cayuga was a memorable one. The professors were always available to help when you needed, and they took the time to learn about you as you learned about accounting. With the small class sizes, there was ample time to slow things down or speed them up depending on the comfort of the entire class. I was in my last 2 semester classes with the same people generally for all classes, so it was extremely easy to correlate one class's lessons to another class's, making it a very immersive learning experience. I feel that I was given above and beyond the tools to grasp the lessons and knowledge I needed to apply my degree in the workforce. I don't think I would have succeeded as well anywhere else."
I enjoyed my time at Cayuga. I found the Professors to be people I looked forward to seeing in class they brought their life experiences as well as the curriculum to the program. Prior to taking the classes, I thought I knew what accounting was about; I was only partially correct. The classifications, relationships, principals and concepts of accounting were eye-opening. It all starts with "no, actually the terms credit and debit are references to positions in a place holding model."
SERVICE LEARNING

FOR ACCOUNTING STUDENTS
The United Way of Cayuga County partners with Cayuga Community College to help run CA$H (Creating Assets, Savings, and Hope), a free tax preparation service. From January through April each year, Cayuga accounting students who have completed the Federal Income Tax course are recruited by Professor Dawn Matijas-Czolowski to volunteer their time and prepare tax returns for low-income families in Cayuga County.
2019 CA$H Results
Number of Returns filed: 324
Total Refunds: ~ $500,000
Average Client Refund: $1,617
Four (4) student volunteers:
Crystal Featherly – May 2019 graduate
Aaron Hilmerson – May 2019 graduate
Stephanie Reese – May 2011 graduate
Naela Zeuba
ONLINE

LEARNING

Cayuga's accounting program offers a flexible and convenient way to earn your A.A.S. degree. Students can combine their coursework to include both campus and online instruction. Core accounting courses in the second year are offered on Monday and Wednesday to provide students with additional flexibility.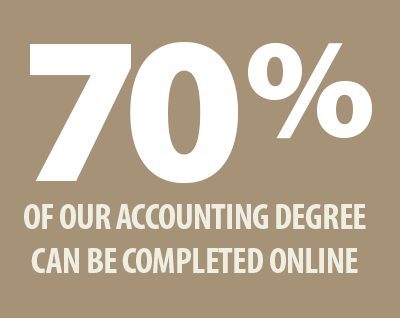 DEGREE
REQUIREMENTS
Students receive instruction in the field's core subject areas. Those who enroll at a time other than the fall semester may need more than four semesters to complete the required sequence of courses. Some third- and fourth-semester business courses are only offered during the day.
The curriculum listed on this page represents the minimum coursework required for the AAS degree in Accounting. Any exception must have the written consent of the chair of the Division of Behavioral/Social Sciences, Business, Criminal Justice, Teacher Education, and Physical Education/Health.
Degree requirements for the Accounting A.A.S. program
COURSES
CREDIT HOURS
FIRST SEMESTER
ENGL 101
Freshman English I
3
BUS 101
Principles of Accounting I

*

4
BUS 103
Principles of Business
3
BUS 225
Microcomputer Application Software
3
Math

**

3
16
SECOND SEMESTER
ENGL 102
OR
ENGL 270
Freshman English II
OR
Technical Writing
3
BUS 102
Principles of Accounting II

*

4
BUS 205
Business Law I
3
Liberal Arts Elective
3
Health or Physical Education
1
14
THIRD SEMESTER
ENGL 221
OR
ENGL 222
Effective Speech: Public Address
OR
Effective Speech: Group Discussion
3
BUS 090
Small Business Accounting

*

2
BUS 201
Intermediate Accounting I

*

4
BUS 222
Federal Income Tax

*

3
BUS 227
Corporate Finance
3
ECON 201
Introduction to Economics I
3
18
FOURTH SEMESTER
BUS 202
Intermediate Accounting II

*

4
BUS 150
Business Communications
3
BUS 220
Business Statistics
3
BUS 221
Accounting Systems

*

3
ECON 202
Intro to Economics II
3
16
TOTAL CREDIT HOURS
64
A prior felony conviction may hinder a student's ability to enroll in a course or complete the requirements of certain academic programs and/or meet the criteria for licensure required by certain professions.