Students and I discussed this week the new internet-influenced use of "because."  CBS, Grammar Girl, and The Atlantic have reported the grammatical evolution where Because + Noun is happening online. Perhaps since this discussion followed a lesson on run-ons and pronoun clarity, students reacted quite negatively to this news.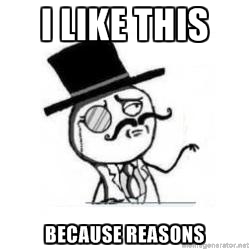 In fact, I observed we've used "because" in different ways for a long time. For example, children typically ask parents "why" some rule exists the way it does, and the parents answer "Because" without any reason, phrase, or additional words. "Because" is a powerful indicator of reasoning in our speaking and writing, even if the reasoning is simply autocratic and assumed.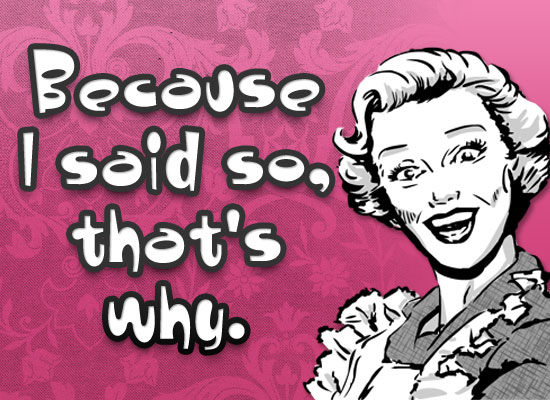 Students were glad to hear that "because internet" was not standard English (not something I would have predicted), but they also wanted to know when their non-standard expressions would be essay acceptable. Sorry to say, all of this is not standard (or what some call "proper") English. The march toward efficient, quick language is what I think we should find intriguing, however. People forget that little more than a hundred years ago the passive sentence was championed as "proper," yet few accept passive construction as the norm today. Because change.
Writing involves logic (as well as emotional appeals and establishing credibility).  To help students' logic, I assign "Finding the Good Argument OR Why Bother with Logic" from Writing Spaces in English 101.  Brain Pickings posted the following concise explanations of logical principles.  They're designed for young teens but really useful for anyone else too.
I discovered this app while dropping in on a Canvas MOOC this summer. It's perfect for online brainstorming of paper topics or crowdsourcing responses. Think wiki page blended with tag clouds. The 20 character limit forces the answers to be broad enough without becoming too academic. In setting one up, an email and password allow administrative access to remove individual off-topic or inappropriate responses. But in general, this is a great additive application, so the more amassed in the garden the better it will grow (ideas).

With end-of-term papers coming due, I'd like to reflect on, and perhaps reconsider, general undergraduate attitudes toward research documentation.  Simply put, we need to remember citations allow for continuation of our knowledge and culture.  Without accurate citation we wouldn't be able to verify findings and perspectives very well, and judging content is difficult enough without recognizing the source of perspectives and knowledge.  First-year students want to be heard, hence the popularity of networks like twitter and facebook that announce one's presence.  But in order to be heard in academic writing, knowing from where we are coming, with whom we speak, and how we respect what others have said, provide one's credentials.  Being unambiguous about one's dialogue with others necessitates in-text citation and systematic documentation.  What others say demands signal phrases be carefully constructed, which is why I'm a big fan of Graff and Berkenstein's They Say/I Say.  Thinking about writing as a Burkean conversation can help students work to represent speakers relevant to their topics—challenging work that many students view as toiling ineffectual when the opposite is the case.  For citation establishes and builds ethos—a writer's ethical standing before one's audience.
No doubt, documenting is demanding for students.  It does require rigorous diligence, yet when academic writers begin to control their signal phrases and documentation, this is when they can better evaluate sources because they've been able to differentiate between statements.  After students stop obsessing over conventions, writers can draw closer to matters of their written voice, control of one's research, and supporting a thesis-argument.  Writing a draft makes this possible just as planning to cite through one's notes and annotations makes this process of control easier.  Perhaps somewhat paradoxically, this differentiation involves the researcher's reading process.  As the citation project concludes in their review of student papers thus far, the ability to summarize is not being emphasized.  Instead, "the students paraphrased, copied from, or patchwrote from individual sentences in their sources" (Howard, Rodrigue, and Serviss). In my experience, student obsession over documentation and their seeking of concrete evidence in the form of quotation infringes on a student's development in abstracting–literally drawing away–content from a source. And unfortunately, teachers can reinforce this obsession by pointing out documentation as a means of quickly "improving" student academic writing.
Through the separating out of texts by others, writers can extend what we know and believe.  Students can move beyond the vortex of messiness that holds back their voices.  Student writers are frustrated by not having authority and feel research steals their voices when citations and source differentiation should actually support/develop their authority.
The NCTE committee charged with compiling information on undergraduate writing majors has completed its report.  In sum, the CCCC article explaining the results observes there are two types of undergraduate writing majors depending on the college: Liberal Arts or Professional/Rhetorical; the former is founded in creative writing and literature, the latter in writing theory and praxis (418).  Nationally, the writing major is growing with 68 degrees at 65 unique schools documented.  Most are housed in English departments and are either quite flexible and/or interdisciplinary degrees.  Candidates are encouraged to double major.  None of this should is a surprise.  What is interesting, however, is where these points coincide in principle with Cayuga's own writing concentration.  At Cayuga, many liberal students are interested in creative writing, and professional writing courses are linked to other majors such as business, mechanical tech, computer information, or telecommunications.  This difference is recognized by Cayuga students through their desire for personal-literary expression and writing that gets-things-done.
Overall, two curricular recommendations were made:
The Writing Major might include a foundations/ introductory course such as those found in psychology, sociology, etc.
The bachelors degree should have a capstone experience–i.e. a portfolio, internship, or other experience through which students might draw together and/or apply what they've learned about writing.
Finally, it was suggested more rhetorical history and research methods instruction be included in undergraduate writing studies.  Cayuga is addressing these concerns in several ways.  An honors English 101 has been offered successfully that focuses on an Introduction to Writing Studies (rhetoric and composition); plans are in process to offer such designated 101's in the future.  Professional Writing, a new writing concentration course with an experiential component, will be offered Fall 2010.  Several new one-credit English 238 courses are scheduled for Fall 2010, one on Written (Rhetorical) Invention, another a revision workshop that would help a student's writing portfolio for transfer or prospective interviews.  In total, Cayuga is making several steps toward meeting the recommendations in the CCCC Report on Writing Majors and looks forwards to continuing to offer a very reasonably affordable education for those interested in writing for careers and transfer.
First-year composition (FYC) can accomplish a great deal for college students but less than we so unfairly assume.  The history of first-year composition is a history of remediation.  Many years ago, when the same cultural class attended college, writing, speaking and rhetoric were practiced throughout all four years of college.  The professional goals for college were fairly simple:
To become a lawer
To enter ministry service, and/or
To provide politician leadership
After industrialization captured the nation's economy, a business class grew up and wished for its children to be college educated.  Ivy colleges didn't know what to do with these strange people who used language less aristocratically than the curricula and professors were prepared, so while the business class demanded additional majors and contributed money these growing colleges couldn't ignore, writing classes were used as a gateway to guard against those who would not adapt their language use toward standardized, if arbitrary, genres.  Nevertheless, this remediation wasn't simply a test to stay in college.  Its current-traditional curriculum also required students practice modes of writing: narration, description, exposition, and persuasion/argument.  Faculty psychology theorized that these modes were the basis for the standard way people think.  This isn't really true, but the current-traditional did help many in the business class stay in college and succeed in their business practices because it captured industry needs in some degree.   Thus, the modes of writing helped business become more organized.   And organized business demanded new majors and specialized writing tasks to meet their goals.  For example, engineers write differently than accountants who speak differently than professional management, so shouldn't college majors reflect these differences?
Each new generation in America has added its own class warfare to the mix of demands upon first-year writing.  Since writing instruction was handed off to first-year composition, the expanding majors deleted their own writing and rhetoric instruction until many colleges have been left with one course to do the work of four years in meeting the goals of numerous majors.  By now, you should get a good sense that the expectations on FYC are unreasonable.
So what can first-year composition do if we understand it can't do everything?
First, FYC can help students begin to understand their identities as writers.  If students think of themselves as writers they will develop writing practices–similar to how we view doctors practice medicine.
Second, students can learn to practice writing as a process.  Individuals have unique talents and can develop specific procedures for getting writing done.  Students can explore how they work best and where different writing tasks should use different approaches.  Students can learn to be independent in their writing decisions thus preparing them for tasks where no one will tell them how to write successfully.
Finally, students can reflect and develop analytical abilities based on inquiry.  Curiosity can be enhanced through writing.  In learning to write, students can see writing as a medium for learning, researching, and developing new knowledge.  Professionals comment regularly that expressing their problems, attempted solutions, and accomplishments lets them know the content in their professions.  Language assists in one's thinking, so if we want to enhance thinking, we have to increase where and how we use language to investigate our world.